Pelosi Loses Control Of Her Teeth On Live TV – Then Trump Makes Sure Everyone Saw It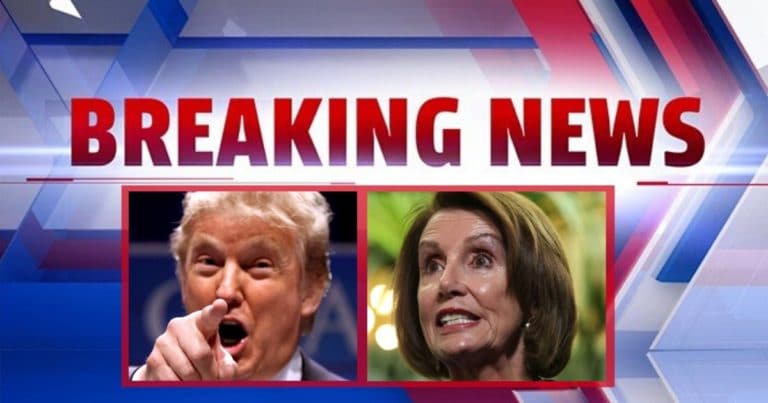 Nancy lost it – and Donald broadcast it!
Nancy Pelosi banked her party's future on impeachment. Since putting forward their articles, she's been forced to justify her decision.
One reporter asked a pretty simple question: why did she drop the bribery charge? After all, they've been accusing Trump of bribery all this time.
Her answer, as you can imagine, was ridiculous, in more ways than one.
From Twitter:
Because it wasn't true https://t.co/YKb51C6CIN

— Mark Meadows (@RepMarkMeadows) December 13, 2019
Uh… yeah weird. You're a lawmaker, Nancy. That means you shouldn't be practicing medicine (whatever that means). You should be helping run the country, and should be able to read the law.
It sounds like she changed the charge because it did track well with her "focus groups."
And Trump wanted to make sure no one missed what really happened in that video.
From Twitter:

Because Nancy's teeth were falling out of her mouth, and she didn't have time to think!
Ouch. Trump nailed Nancy, saying she couldn't give a good answer because her teeth were falling out.
It definitely looks like she was having a hard time. For a little more history of evidence, take a look at Benny Johnson's video.
From Twitter:
I mean, you decide: pic.twitter.com/kZG1ZNOpIa

— Benny (@bennyjohnson) December 15, 2019
Wow. From the clips Benny shares, it seems like Nancy has a history of struggling with her teeth.
Perhaps her dentures just don't fit very well. That's surprising. You'd think a powerful Democrat on Capitol Hill could afford a good dentist!
Maybe whenever she gets nervous about what she's trying to do to Trump, she just can't help twitching.
SHARE if you think Nancy's got to go!
Source: Twitter, Twitter, Twitter