48 Hours After Pelosi Begins Impeachment – Eric Trump Thanks Her For Raising $8.5M For 2020
Nancy thought she was hurting Trump – this was not supposed to happen!
Speaker Pelosi jumped on impeachment bandwagon last week, and she thought this would finally bring down the President.
But it looks like it's having the opposite effect.
Democrats thought the American people would go right along, even though the polls said they didn't support impeachment.
Turns out Trump supporters are rallying much stronger than she ever expected…
Now Eric Trump just sent Nancy a big thank you for the eye-popping fundraising haul she is responsible for: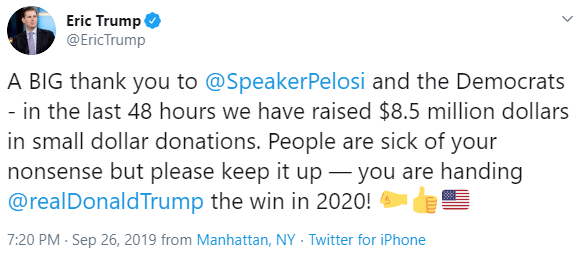 "A BIG thank you to @SpeakerPelosiand the Democrats – in the last 48 hours we have raised $8.5 million dollars in small dollar donations. People are sick of your nonsense but please keep it up — you are handing @realDonaldTrump the win in 2020!"
Wow! But wait—there's more, much much more…
In a major update just a day later, Eric sent out Washington-shattering tweet: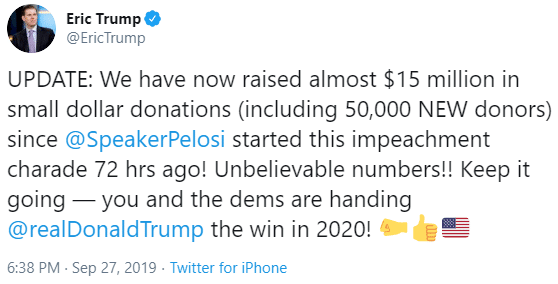 "UPDATE: We have now raised almost $15 million in small dollar donations (including 50,000 NEW donors) since @SpeakerPelosi started this impeachment charade 72 hrs ago! Unbelievable numbers!! Keep it going — you and the dems are handing @realDonaldTrump the win in 2020!
Are you kidding me? They almost doubled their numbers in just another day? Talk about the Trump Train rolling!
Why is this happening? There seems to be only one explanation:
Trump supporters are rallying around Donald, and they're putting their money with their mouth is.
This has got to be making Democrats sweat for 2020. Pelosi, Biden, and the rest of them meant this to take him down…
But Trump is turning it into something good.
He's like King Midas, turning everything he touches to gold.
SHARE to thank Pelosi for helping Trump raise $15 million!