Pelosi Rolls Out Sprawling New 'HEROES' Bill – $3T Price Tag To Cover Stimulus Checks, Mail-In Voting, And State Funds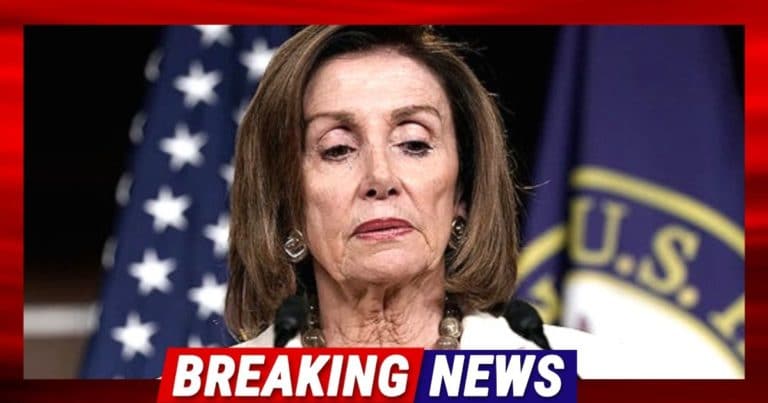 Pelosi and her Democrats sat back for weeks as Americans suffered. Now, they're back, with their biggest boondoggle yet.
House Dems crafted a new "relief" package—refusing input from a single Republican. Rumors swirled about what massive, left-wing goals this bill would cover.
Now, they have released their proposal—and it's every you thought it would be, and worse.
From Fox News:
The House Democrats' coronavirus relief proposal will reach about $3 trillion in new spending, amounting to the biggest and most expensive aid package yet to deal with the global pandemic…

The legislation will provide expanded food assistance to struggling families through SNAP benefits and funding for elections and mail-in voting to prepare for the November election.
Pelosi and her Democrat unveiled their "HEROES" proposal, a massive spending bill that will reach $3 trillion.
The biggest piece of the pie is, of course, a bailout for states that have been in debt for years.
Naturally, they claim this is to address the pandemic. But it's no coincidence the states in need of cash are the same that have been spending like crazy for a long time.
Along with that, the bill is a massive liberal "wish list." They want billions to expand government handouts like welfare and food stamps.
They want the government to "subsidize" rent and mortgage payments. That's code for you paying someone else's rent.
The bill wants funding for "contact tracing," a method that some argue violates the privacy of Americans.
And to top it all off, the bill sneaks in funding for mail-in voting: a move that undermines our election integrity.
With the proposal out there, the House will meet this week to debate it. Because the Democrats have a majority in the House, there is a good chance this massive expansion of government power will pass.
But there are few signs that the Senate will even bother to look at this bill. Considering how the Democrats refused to even consult Republicans, do they really think the GOP will support it?
The GOP and the president have made it clear that no relief package will be passed without a payroll tax cut and protection for businesses.
This bill does not include either of those things.
It's hard to believe that the Republican-controlled Senate would even bother to tolerate a matching bill. And if by some bizarre miracle this thing reaches Trump's desk, he'll veto it immediately.
This will just be a colossal waste of time and money. More proof that Pelosi and the left aren't interested in working with our president.
They just want to shove their agenda through, with zero compromises or cooperation.
Especially during a time of crisis, they show their true colors.
SHARE to tell Republicans to say "NO" to Democrats' reckless spending.
Source: Fox News