Pelosi Asked If She Will Impeach Trump Again – Her Answer? "Let's Just See What The Senate Does"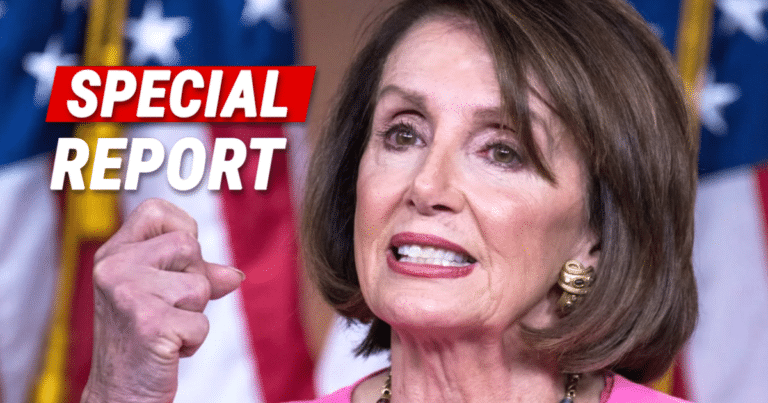 After wasting all our time, Nancy Pelosi has said she will send her articles of impeachment to the Senate on Wednesday.
Her tactic to force the Senate to agree to her terms has failed. Mitch McConnell refused to bend to her will.
But the question remains, what will the Senate do? It's clear they will not bring forward the witnesses Pelosi and Schumer were demanding.
Will they dismiss these bogus articles right away? Or give Trump's team a chance to take the stand?
And what will Nancy do, once her pathetic plan finally folds?
She showed her hand during a recent interview.
From Breitbart:
On Sunday's broadcast of ABC's "This Week," House Speaker Nancy Pelosi (D-CA) did not rule out the possibility of bringing new articles of impeachment against President Donald Trump…

Pelosi said,  "Well, let's just see what the Senate does."
Wow. Pelosi's really lost her mind, hasn't she? When asked if she will try to impeach Trump again, she said "Let's see what the Senate does."
That is as clear a threat if I've ever heard one. She's saying, "the Senate better vote to remove Trump or I'll impeach him again."
This lady's really skating on thin ice. There's no way Republicans will vote to remove Trump. Especially over these bogus, wildly partisan impeachment articles.
Pelosi must be living in as deranged a dreamworld as Hillary Clinton, if she thinks she can remove Trump.
America has watched as Democrats have done nothing in the last three years. The party has crumbled as liberals opposed every last good policy by the Trump administration.
Meanwhile, the president has scored one big win after another for the American people.
What does Pelosi think is going to happen in November? Does she really think she is going to hold onto her seat after this?
She'll be lucky if she is still in Congress! The Democrats are headed for a disaster this election. The only thing that might save their bacon is if they start—right now—to work with Trump.
Instead, the Speaker is pretending as if she is going to impeach Trump again.
Is this a farce? Some kind of cartoon mockery of our country? Is the woman just crazy or taking crazy pills?
I don't know, but it's clear this woman is unfit to lead.
SHARE if you think Pelosi should be impeached, not Trump!
Source: Breitbart