Hours After Pelosi Moves To Impeach Trump – Donald Quickly Gets Backup From The Ukrainian President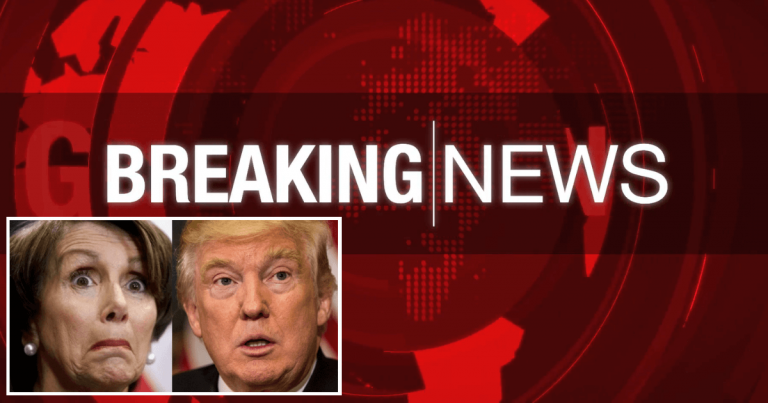 Nancy thought she had Trump this time – then Donald brought out the big guns!
Pelosi joined with the radical left to impeach Trump – but it's already falling apart on her.
She dared to move on unverified and dubious claims that Trump was pressuring the President of Ukraine.
Well Trump released the transcript of the call, showing nothing like that was said. In fact, Trump did the right thing by asking about possible crimes and election interference.
Ukraine's president was asked about this, too. Clearly, the media wanted Zelenskiy to join in and get Trump impeached.
But this is what he had to say.
From Reuters:
Ukrainian President Volodymyr Zelenskiy, asked whether U.S. President Donald Trump had put improper pressure on him during a July phone call, said nobody can put pressure on him except his six-year-old son…

"Nobody can put pressure on me because I am the president of an independent state," Zelenskiy told Russian reporters in New York where he is attending the United Nations General Assembly.
The President of Ukraine made it very clear that Trump did not pressure him. In fact, he said nobody can put pressure on him… except for his six-year-old son!
His statement removes any doubt whether Democrats have Trump cornered.
The Left's got nothing.
They placed a huge bet on this phone call. But it's a bigger nothing-burger than the Russia hunt.
And what makes it worse? It turns out Ukraine probably had no idea Trump was withholding funds at the time of the call – so there's no way Trump was pressuring them with a quid pro quo.
Democrats are trying to impeach Trump without concrete evidence. Do they really think they will get away with this?
Do they think the American people are going to sit back and let them upend our nation?
I don't think so.
It looks like this charade is going to blow back on them, dooming their party for a long, long time.
SHARE if you think Trump is innocent and the Democrats are guilty!
Source: Reuters