On Nancy Pelosi's Impeachment Day – President Trump's Approval Rating Hits 34-Month High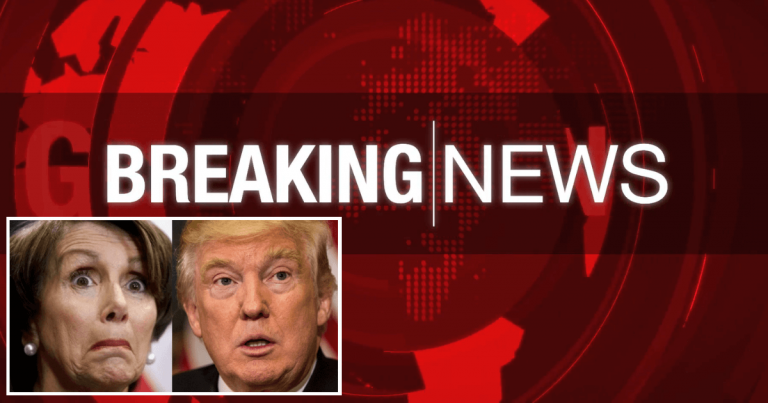 Pelosi thought today was her victory – instead it's her defeat!
You might be wondering why Nancy Pelosi and the Democrats are going ahead with their impeachment of Donald Trump.
After all, the Senate holds all the cards on whether or not to remove him from office. And—spoiler—Mitch is not going to do that.
It's simple, though. Democrats were banking entirely on the left-wing media to hype up the impeachment.
Even when acquited by the Senate, they hoped it would generate enough negative press that Trump's 2020 would dwindle to zero.
Hmm… that's a big risk, let's see if it works out for them.
Already we are seeing the Democrats' scheme blow up, big time.
From Washington Examiner:
On the morning of President Trump's likely impeachment in the House of Representatives, Gallup released a poll showing a six-point jump in the president's approval rating…

When House Democrats first announced their impeachment efforts in late September, Trump's approval rating plummeted to just 39%. After weeks of testimony and the House's decision to draft two articles of impeachment, his approval rating climbed six points to 45%.

Opposition to impeachment has climbed five points from 46% in October to 51% in December.
In just one poll, Trump's approval hit a 34-month record.
This comes on the same day that Nancy and House Democrats seal their fate with an impeachment vote.
The same day liberals, adorned in their pink hats, celebrating the "downfall" of Donald Trump.
On the same day Democrats pushed an impeachment on the flimsiest of charges, Trump's approval is hitting record highs.
But it only gets better. According to the same source, support for impeachment is in the toilet. More Americans are opposing it with each passing day.
Keep in mind, this was the very reason Democrats wanted to impeach Trump. To turn Americans against him.
The opposite is happening. Americans refuse to believe Trump committed an impeachable offense. After all, we read the transcript of the Ukraine call ourselves.
On top of that, Trump has continued to win for the American people.
Millions of Americans have realized that Democrats are impeaching Trump because he's doing so well. Their weak 2020 candidates can't beat him.
You have to wonder how Pelosi and the rest can just ignore all these polls. But hey, who said liberals were ever smart?
SHARE if you will continue to support President Trump after impeachment—and into 2020!
Source: Washington Examiner