After Pelosi Gets Tough Impeachment Questions – Nancy Loses It On Live TV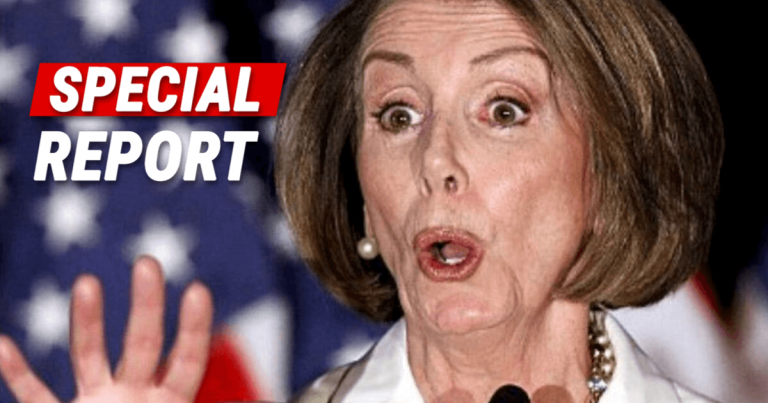 Nancy didn't see that one coming – maybe her biggest flub yet!
Let's be honest, Nancy Pelosi has had a hard couple of months. In fact, you could say 2019 has not been her year.
Maybe that means we should go easy on her, as we approach the holidays, huh?
Yeah right. This D.C. elitist brought this onto herself. She went ahead with her party's ridiculous impeachment of Donald Trump with zero hard evidence.
It's obvious she is pushing this impeachment to influence the 2020 election.
Who's abusing power now, huh?
But, it seems, pushing a hated impeachment, one against the country's wishes, is hard work for the old gal.
So, when a reporter asked her a simple question, Nancy's brain went kaput.
From Western Journal:
When House Speaker Nancy Pelosi took the podium at her Thursday afternoon news conference on Capitol Hill, she was no doubt intending to defend the strength of Democratic articles of impeachment to the waiting media.

She sounded like she could barely convince herself…
.@nancycordes asks Nancy Pelosi why bribery is not one of the impeachment articles after Pelosi accused Pres. Trump of it

Pelosi says the articles are "very powerful, they're very strong, and they are a continuation of a pattern of misbehavior on the part of the president" pic.twitter.com/TD9o7BcPRI

— CBS News (@CBSNews) December 12, 2019
"I myself am not a lawyer. Sometimes I act like one. Not as often as I act as a doctor. I practice medicine on the side without benefit of diploma, too."
Um… huh? Did I just see what I saw? You saw that too, right?
The reporter asked Pelosi why the Democrats aren't including bribery in the impeachment articles. That was what they've been accusing Trump of from the very beginning, after all.
Pelosi, let's say, did not give a good response.
She fumbled around talking about not being a lawyer, but acting like one. Then she says she's not a doctor but sometimes she practices medicine on the side.
Ooooookay.
She then gives a pretty weak explanation of why Democrats were including only "abuse of power" and "obstruction of Congress" in their articles of impeachment against Trump.
But did you notice her performance? The way she's talking? I'm not a doctor either, but somethings wrong!
Maybe she's been on the sauce a bit too much. Or maybe she's got more health issues than she lets on.
Or maybe, just maybe, Trump Derangement Syndrome is a very real condition. One that has rendered Pelosi (and the rest of the Democrats) completely incapable of doing their job.
Or talking like normal people.
And that's only after Trump's been in office for three years! Imagine what she'll be like when he begins his second term…
SHARE if you think Pelosi should get kicked out of office, not Trump!
Source: Western Journal