Nancy Pelosi Loses It on Live TV – The Speaker Just Admitted Democrats Must Change the Subject on Inflation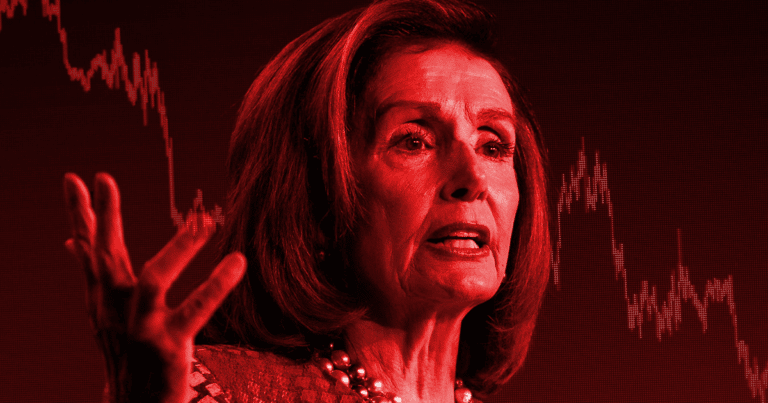 What's Happening:
Democrats know they are in big trouble. Signs point to the party losing major races this election cycle. But in the end, they only have themselves to blame. They were in control of the federal government over the last two years. And what do they have to show for that time?
Major crises have been hammering the United States. The economy is on the verge of a painful recession. All because of Joe Biden's reckless spending–with the full support of his party. But Nancy Pelosi is not willing to admit the Democrats' huge failures. In fact, she just admitted that it comes to the top issue for voters, she says just change the subject.
From Twitter:
Pelosi: "When I hear people talk about inflation as I heard it there, we have to change that subject."
Pelosi: "When I hear people talk about inflation as I heard it there, we have to change that subject."pic.twitter.com/EECib2RrdB

— The Post Millennial (@TPostMillennial) October 23, 2022
Wow, how pathetic. Every poll shows that the economy and inflation are the top concerns for voters going into the midterms. How Biden and the Democrats handled (or mishandled) our economy will have the greatest impact on how voters vote.
But Pelosi, instead of admitting her party failed, is telling people to just "change the subject." Oh, is it that easy, Nance? Families can't put food on the table. Workers are struggling to put gas in their tanks. Businesses are on the verge of going under, thanks to a problem supply chain, high energy costs, and raging inflation.
But it's just a "global" problem–not a local one. So, we should just ignore it. That is what Pelosi is saying here. Apparently, neither she nor anyone else in the Democratic Party is to blame for raging inflation, because it is happening everywhere.
Um… that only means Congress should have worked even harder to avoid it. You don't ignore a problem just because other countries are struggling with it too. When did Democrats push extreme COVID measures, then? Why didn't they say back then, "Oh, it's just a global problem. Not much we can do about it"?
But when it comes to a situation they could easily address by cutting back government spending, reducing taxes and regulation, and opening up federal land for drilling–suddenly the left's hands are tied!
And Pelosi's best response is to change the subject. Even when most Americans will be voting based on their economic fortunes.
Great leadership, Nance.
Key Takeaways:
Nancy Pelosi admitted to ignoring inflation, saying "we have to change the subject."
Pelosi has repeatedly dismissed Democrats' failure on inflation by saying it was a "global" problem.
Democrats are poised to lose big this November, as voters blame them for the poor economy.
Source: Twitter