Pelosi Lets Her "Mask Slip" On Face Masks – Nancy Defies Pence, Demands A Nationwide Mask Mandate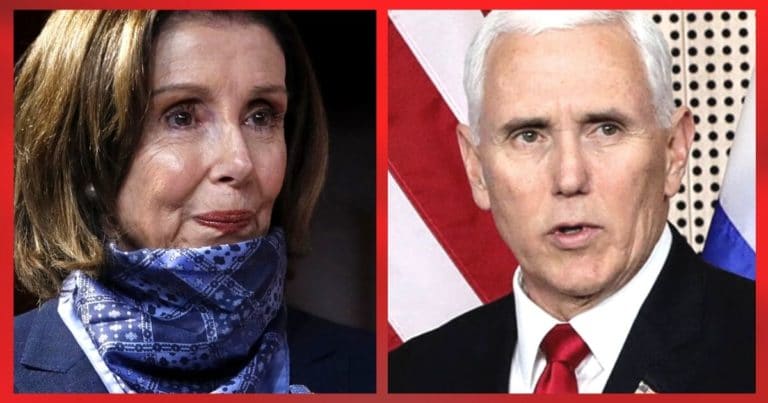 The debate over wearing masks to avoid spreading CO-VID has been heating up across the nation.
As some states saw a spike in new positive tests, some leaders have forced residents to wear masks outside of their homes.
Joe Biden, Democrat candidate for president, said he would force all Americans to wear them. Now Nancy Pelosi is making her thoughts clear on the issue:
Speaker Nancy Pelosi (D-Calif.) said Sunday a nationwide mandate to wear face coverings to prevent the spread of coronavirus is "definitely long overdue."

"And my understanding that the Centers for Disease Control [and Prevention] has recommended the use of masks but not required it because they don't want to offend the president."
Here's why this issue is critically important for our Constitutional rights:
The medical community still appears conflicted on the issue of face masks. Some say they can help prevent a sick person from spreading the virus. But others question governments forcing Americans to wear masks, as some suggest it can lead to other health problems.
Many have balked at state or local governments forcing Americans to wear something, despite their own objections. Not that long ago, experts including Dr. Fauci said masks were not necessary.
He even discouraged Americans from wearing them, though he later admitted it to get medical professionals mask during the shortage.
Now, Pelosi wants to force a national mandate? What about the Constitutional repercussions? Can the government just demand citizens wear something—just because they say so? Shouldn't Americans be allowed to make their own decisions on protecting their health?
Or do we give up our rights, just because there is a threat?
Vice President Pence, instead of listening to Pelosi's demands, has provided a federalist approach to masks, which includes respecting the authority of governors and local authorities to provide guidance on the issue.
While that still gives governors plenty of power to mandate actions to their residents, it currently prevents the federal government from stripping away Americans' rights.
Key Takeaways:
Nancy Pelosi wants a national mandate for face masks.
Vice President Pence is currently respecting the authority to states to make that decision.
Source: The Hill, Epoch Times