After Pelosi Presses 'Pause' On Impeachment – President Trump Pulls Back Curtain On Her 'Security Threat'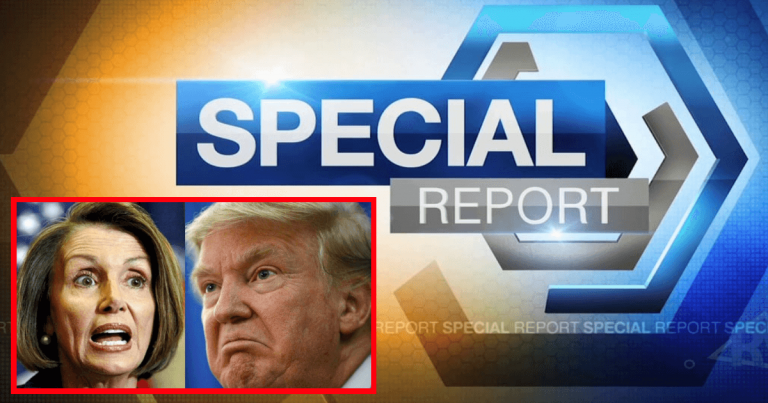 Nancy didn't think Donald would dare – it's all out now!
Nancy Pelosi plunged our nation into chaos when she called for the impeachment of Donald Trump. She said impeachment wouldn't happen without bipartisan support, then changed her mind.
Such a drastic reversal of her previous stance must mean the situation was dire, right?
Some liberals admitted they did this to affect the outcome of the 2020 election, but oh, no! That's not the case at all, according to Pelosi.
She said that Donald Trump is a national security threat and must be removed as soon as possible—even though they never put that into their articles of impeachment.
Yet, after they voted for their partisan impeachment, Nancy slammed the brakes on the entire affair. She says she won't send the articles to the Senate for a trial, as the Constitution demands.
Now, Trump is exposing her and the left's hypocrisy.
From Fox News:
The president tore into House Democrats overnight… for allegedly seeking concessions in the Senate that Republicans were not afforded in the House — and for hitting pause on impeachment after stressing the national security urgency of it all.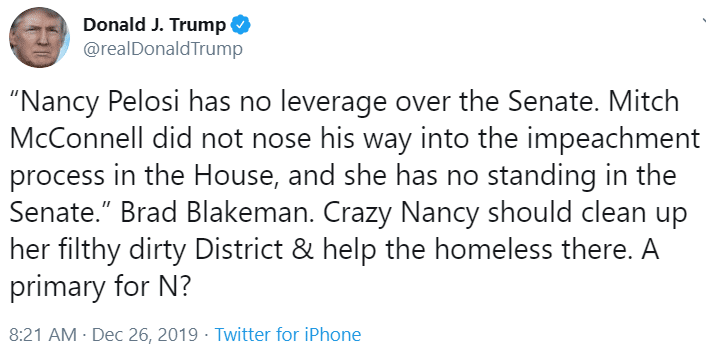 "The Radical Left, Do Nothing Democrats said they wanted to RUSH everything through to the Senate because 'President Trump is a threat to National Security' (they are vicious, will say anything!), but now they don't want to go fast anymore, they want to go very slowly. Liars!" Trump tweeted Thursday morning.
Woah. Trump pulls zero punches when he calls the Democrats "liars" when they accused him of being a threat to national security.
He claims that, after going so fast through the House, they are trying to go slow.
It's hard to believe the left's claim that Trump is a threat to national security in the first place. I mean, seriously!?
The man seems to be the only person in D.C. that seems to be actually protecting the country.
He is fighting to secure our Southern border from major threats. He's beaten back our biggest enemies . And he's been our Armed Forces' biggest champion.
(And let's not forget how he just created a new branch of the military, the Space Force, to protect our assets in orbit.)
And that's not to mention how hard he's worked with foreign nations, securing deals and other agreements.
So, tell us again, Nancy of how Trump is a great threat to our security.
If she really believed that, then why is she trying to slow this process—right as they get to the part where Trump can be removed?
Is it because this has been a sham all along? Nancy Pelosi knew the Senate would never convict Trump. She just held her impeachment vote for show.
But Americans aren't buying it. And we'll have something to say about it, come 2020.
SHARE if you agree with Trump – the Democrats are liars!
Source: Fox News