Nancy Pelosi Reveals Her Price For Trump's Wall – Loses Standoff To Donald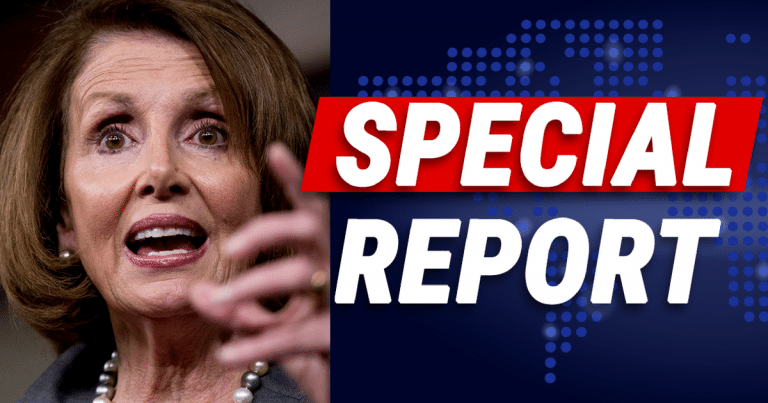 Wrong answer, Nancy. Trump just turned the tables on her.
When it comes to border security, the Democrats aren't looking out for Americans.
They voted against Kate's law, they support welfare for border jumpers, and they are shutting down the government just to stop the wall from receiving funding.
Pelosi resuming her former role as House Speaker, but she shows no signs that she will work towards a compromise with the GOP.
Trump is putting the screws to Pelosi, and he's forcing her to reveal her hand. It's a bad one.
From Breitbart:
During a portion of an interview with NBC's Savannah Guthrie released on Wednesday, House Democratic Leader Nancy Pelosi (D-CA) vowed there will be no money given to fund President Trump's border wall.

Guthrie asked Pelosi if she is willing to give the president money for the wall. Pelosi answered, "No."

Pelosi further stated, "No. How many more times can we say no? Nothing for the wall."
NEW: "We can go through the back and forth. No. How many more times can we say no? Nothing for the wall," Rep. Pelosi tells @SavannahGuthrie amid the government shutdown, as Democrats prepare to retake control of the House on Thursday. pic.twitter.com/0tOVfmgJft

— MSNBC (@MSNBC) January 2, 2019
Americans now know it's the Democrats' fault this shutdown is happening.
Pelosi is acting like she is ready to keep the government closed permanently if it means the wall never gets built.
SHARE if you think Pelosi is losing big by refusing to strike a deal!
But is she really?
Chances are that the money for the wall will come when the media can no longer cover up the fact that Pelosi and Schumer are behind the obstruction.
And if the Democrats decide to not budge, it will only hurt them in the eyes of their liberal followers.
The GOP isn't the Party that supports having thousands of government employees. If the Democrats are that determined to keep us from having a wall, at least we know that overpaid bureaucrats aren't getting their paychecks.
But Trump is not the one to blame for the partial shutdown.
The Left can't pin unpaid federal workers on Trump – they're the ones who will not compromise and give Trump what a majority of Americans want – wall funding.
It will be one of the worst starts to a Congressional year ever, but if Trump can outlast the Democrats, it will weaken them significantly in the upcoming session.
The Left really have no idea who they're dealing with. Trump is the master of the art of the deal, and this isn't his first time dealing with a hostile negotiation.
And he will win again.
SHARE if you think Trump should stick to his guns!
Source: Breitbart