After Pelosi's Public Hearing Crumbles – Nancy Gives In To Trump On His Major Mexico Deal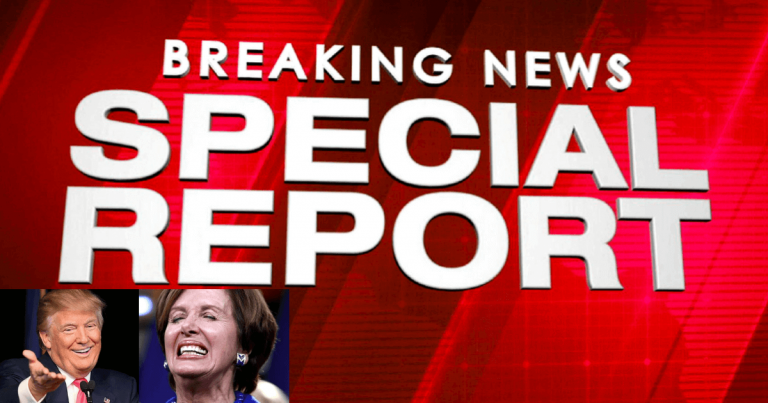 Nancy's plan is falling apart – sho she's giving Donald what he wants!
Democrats' impeachment scheme is unraveling faster than a sweater from Walmart.
Two of those Einstein witnesses sat still and said nothing when pressed to point to a crime. How telling.
Meanwhile, the American people suffer as Congress does absolutely nothing to help them. Critical legislation is stilling around, waiting to get passed.
President Trump frequently demands Congress to do their job, not use impeachment to win elections.
Well, despite all of Nancy Pelosi's big talk, it looks like she has no choice but to bow to his wishes.
From Daily Wire:
House Democrats are reportedly prepared to hand President Donald Trump a major win before the end of the year by passing the United States–Mexico–Canada Agreement (USMCA), which replaces the old North American Free Trade Agreement (NAFTA)…

"I'd like to see us get it done this year, I mean, that would be my goal," Pelosi added.
Trump's big victory, the USMCA, will replace the outdated and unfair NAFTA. But Trump announced this new trade deal with Canada and Mexico a year ago.
What has the House done since then? Oh yeah… nothing!
Americans had to sit back and watch as Democrats have wasted year after year on trumped-up impeachment.
Well, Trump forced Pelosi to admit they can't just sit around and let the USMCA go nowhere. This new trade deal will bring hundreds of thousands of new jobs—while saving many more.
It will bring billions of dollars of new investments into the country.
Only a bunch of raving lunatics would not want to pass this bill.
Hmm… I think I'm on to something.
Funny how Nancy talks about this bill only now, after their impeachment sham begins to lose steam.
Maybe you should have passed this a year ago. 2020 wouldn't be looking so scary, then.
SHARE to thank Trump for forcing Pelosi to pass the new trade deal!
Source: Daily Wire