Pelosi And Schumer Plan FDR-Style Bailout – Democrat 'Wish List' Bill Will Cost Trillions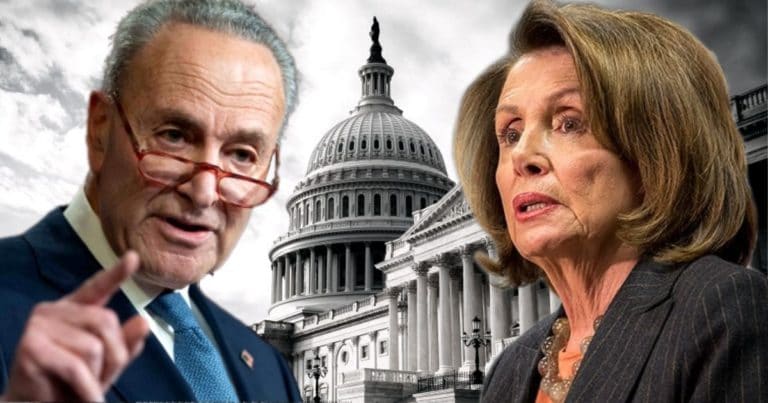 Democrats are rushing ahead with another "relief" package, without any input from Republicans.
The left blocked job-saving bills in the past to cram unrelated spending into the bills. Now, it appears they are going full-steam ahead on a major, big-government plan.
Pelosi even ordered her colleagues to form "wish lists" to shove into their massive, spending bill. And they're rolling it out soon.
From Daily Wire:
Speaker of the House Nancy Pelosi (D-CA) and Senate minority leader Chuck Schumer (D-NY) spent their extended recess working on a "multi-trillion dollar" "Rooseveltian" fourth coronavirus relief package that they're set to unveil as early as next week…

Pelosi commanded Democratic leadership to submit "wish lists" to her office earlier this week, telling House committee leaders and other key lawmakers to "think big" on relief projects.
Wow. Pelosi and Schumer have announced they are preparing a "Rooseveltian" relief package.
Pelosi directed Democrats to send her what can only be expected as the most radical, far-left desires possible.
Expect this bill to be loaded with socialist schemes, funding for abortions, Green New deal initiatives, and anything and everything that would expand the government's power.
What we won't see in this bill are tax or regulation cuts, or anything that will help businesses and states get back to work.
We do know that Pelosi wants to give bankrupt states trillions. She wants to use the virus crisis as an excuse to bailout blue states that have been overspending for years.
Now, with the economy on the edge, Pelosi and Schumer are seeing dollar signs.
You know what not's the best thing to do during a time of economic uncertainty? More government spending!
Where does the government get its money? Taxes and other forms of regulation. That will only burden businesses, leading to greater job losses.
But it doesn't seem that Democrats even realize this. Do they want more Americans out of work? Do they think cash just grows on trees?
Don't they realize that massive government spending, in the tradition of FDR, would only hurt our country?
It's hard not to say Democrats don't like thinking ahead when they see this crisis as an excuse to spend OUR hard-earned money.
The silver lining? There's no way the Republican-controlled Senate will support this plan. And further than that, President Trump won't back any plan crafted by dodo twins Schumer and Pelosi.
If they were smart, the Democrats would have negotiated with Trump and the GOP. But when have they ever done that?
SHARE to tell Republicans to stop these liberals in their tracks.
Source: Daily Wire