After Pelosi And Schumer Stage Kneeling Stunt – It Does Not Go Over Well With Black Leaders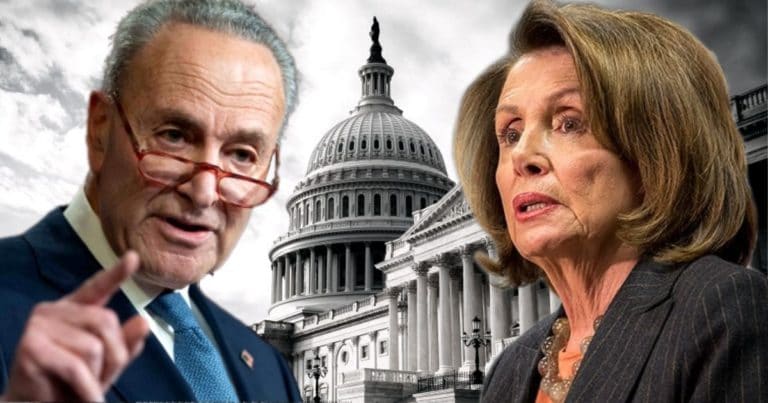 House Democrats are having a hard time dealing with the aftermath of the George Floyd protests.
When asked about their support for "defunding the police," Nancy Pelosi and her minions passed the buck. They then went on to stage a bizarre stunt, by kneeling in the Capitol building to show subservience, it seems, to black Americans.
But the choice of garment they wore—the Ghanaian Kente cloth—immediately sparked outrage from both liberal and conservative black people.
From Daily Wire:
Democrats faced intense backlash on Monday over a political stunt that they pulled in an attempt to show solidarity with the black community over death of George Floyd…

Pro-life advocate Obianuju Ekeocha released a video on Twitter condemning the Democrats… "Stop it. We are not children. Africans are not children."
House Democrats, led by Nancy Pelosi, quickly faced backlash from black leaders and online users over their use of the Kente cloth.
African pro-life advocate Obianuju Ekeocha accused them of tokenism. She criticized Democrats for using a significant symbol of the Ghanaian for their political purposes.
Other black users, including liberals, questioned the Democrats' motives and decisions. Army combat veteran Jeffrey A Dove Jr. called Pelosi, "part of the problem."
Our Take:
Are Democrats just totally insane at this point? What handler told them wearing Kente cloth was a good idea?
Do they think black people are so gullible that they'd believe this proves Pelosi and her goons are their allies?
The kneeling itself disturbing. We've gone over that. It's appropriate to kneel before God and the person you're proposing to. But not to other people for sins "your race" has committed.
But using a tribe's sacred cloth to signal your virtue is downright disturbing.
They quickly gathered these scarves and draped them over their shoulders, as if that gave them instant black credibility.
Sorry, Nance, but actions speak louder than clothes. And your continued support of policies that hurt black Americans cannot be erased by kneeling and wearing Kente cloth.
It's pretty outrageous, but it's typical of the left. They value appearances over character. They care more about how they look on the news than actually doing what's right for Americans.
If Pelosi really cared about black—or any other group of—Americans, she would have condemned calls to defund the police.
But she didn't. Instead, she opted to insult African culture.
Good job, Nance.
SHARE if you think the Democrat stunt was a big mistake.
Source: Daily Wire