Pelosi And Schumer Are Facing Titanic Moment – Democrats Head Toward An Iceberg Of Their Own Making This Month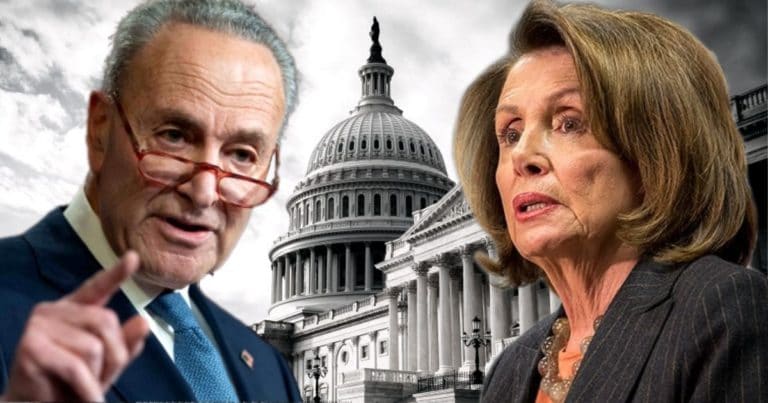 What's Happening:
Democrats shocked Americans when they shut down Congress in the midst of a crisis. They went on vacation as Americans were left stranded in Afghanistan.
Plenty of people are in no way pleased with how these "leaders" are running our government.
But things are only going to get worse for old Nancy and crying Schumer. They have a variety of things they need to get done this September, and they set this all up themselves.
And no way they are going to be successful. It's like a slow-motion Titanic hitting the iceberg. From The Hill:
When lawmakers return to Washington, they'll have to juggle averting a government shutdown in a matter of days with Democrats' self-imposed deadline for advancing an infrastructure and spending package…

That's on top of a looming decision about the debt ceiling, a voting rights clash set to come to the Senate floor in mid-September, lingering Afghanistan fallout and, in the wake of a controversial Supreme Court decision, a heated fight over abortion.
Democrats will be facing a "nightmare September," as they scramble to get as much done as possible.
Their biggest goal is to get Biden's bloated, socialist spending package done. But that is only the tip of the iceberg.
It seems that Democrats will have a hard time getting this $3.5 trillion bill through. While they can ignore every last Republican, thanks to "reconciliation," moderates like Joe Manchin have made it clear they won't support the bill.
It only gets worse from there. Democrats have to avert a government shutdown that will happen in just days.
Unless they can get a budget signed, sealed, and delivered soon, the federal government will close its doors. Perhaps for weeks (not that we're crying about it).
Democrats are also still trying to push their bogus election reform bill—one that will totally destroy democracy in America. That will cannot go through unless 60 senators approve it. Something unlikely to happen.
On top of all that, they have to deal with mounting criticism over their lack of leadership during the Afghanistan crisis (which still goes on).
And some radical leftists will try to push new pro-choice laws if the Supreme Court rules against Roe v. Wade.
If the Democrats falter, even a little bit, they destroy their chances in 2022. While they could compromise with Republicans and score numerous wins, they won't.
Democrats in Congress are bowing to the radical left and refuse to even consider negotiations with the GOP.
With each insane proposal they push, they alienate more and more regular Americans.
No matter what comes out of this fall session, Democrats are sure to doom their party.
Key Takeaways:
Democrats face an uphill battle to get their agenda passed this September.
They need to pass numerous controversial and radical bills, with little support.
This comes as they face increased criticism over Afghanistan and other problems.
Source: The Hill