After Pelosi Plans More Trump Impeachment – Lindsey Graham Orders Speaker Nancy's Cutoff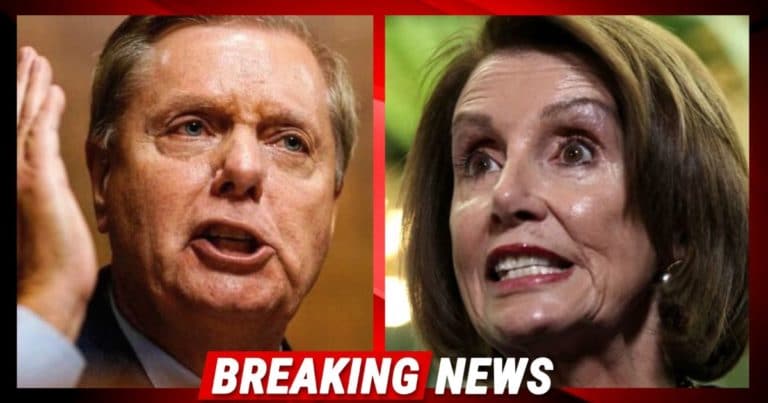 Pelosi and House Democrats are acting like they're drunk on power.
They rammed through their bogus articles of impeachment–without support from a single Republican.
But after all that, they are refusing to send them over to the Senate, as dictated by law.
Now, they are even talking about coming up with even more bogus articles of impeachment against the president.
Wow, these clowns really are getting desperate, huh?
Sen. Lindsey Graham has had enough. And he's telling America, it's time.
From Fox News:
Republicans ratcheted up their accusations that Democrats are overplaying their impeachment hand after court filings from the House Judiciary Committee indicated the two articles of impeachment adopted last week may only be the beginning…

"Democrats are treating impeachment as an open bar tab," Sen. Lindsey Graham, R-S.C., tweeted Monday afternoon. "Time to cut them off, take their car keys away (put GOP in control of the House), and end this insanity."
Lindsey Graham slammed Pelosi and the House Democrats. He said they are treating impeachment "as an open bar tab." He's calling on all Americans to cut them off by voting them out of office.
Their time is up. They have shown us they are drunk behind the wheel. Democrats are unwilling to work with Republicans. They are unwilling to put partisan politics aside and put Americans first.
This entire impeachment charade has been a sham from day one. Americans are outraged that Democrats have wasted so much time and money on this. That they'd try to remove our president over a lousy phone call.
But that's not even enough for these liberals, anymore. They are intent on abusing their power for as long as they can, searching for more reasons to take down the president.
I mean, Mueller cleared Trump's name. Nobody testifying during the impeachment inquiry could point to an impeachable offense.
We've seen no clear, indisputable evidence that Trump broke the law.
Hey Democrats! Maybe, just maybe, that means he didn't break the law.
We all see through the left's charade. They know they can't beat Trump in 2020. So they are pushing one impeachment scheme after another.
This will only end once they are out of power for good.
SHARE if you want impeachment Democrats voted out in 2020.
Source: Fox News