Pelosi Sends Trump An Invite To Congress – And Donald Just Accepted February Date For His Speech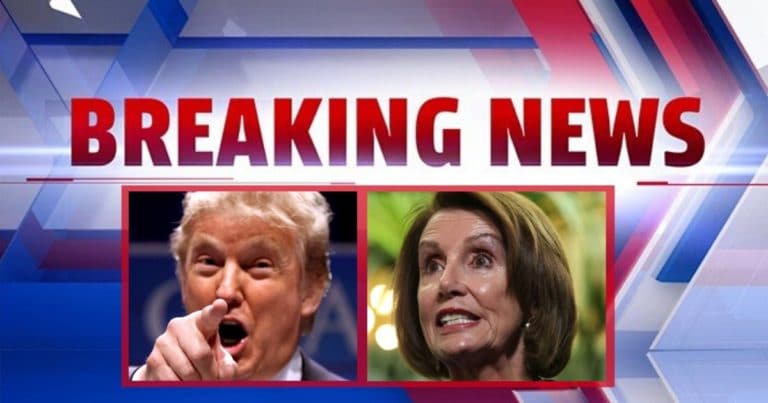 Nancy didn't expect that answer from "The Donald!"
Nancy Pelosi just did something unprecedented: she pushed through a rushed sham impeachment.
She did it all to smear the name of President Trump just months before an election.
Even she can see the error of her ways. Americans are against impeachment. They want the president to do his job. And they expect Pelosi to do the same.
I guess that's why she's trying to change her tune and play nice. As if we're going to buy that she's the "good guy" in all this.
At least she's not pulling the same stunt she did last year.
From The Hill:
Speaker Nancy Pelosi (D-Calif.) on Friday invited President Trump to deliver his annual State of the Union address on Feb. 4…

"In the spirit of respecting our Constitution, I invite you to deliver your State of the Union address before a Joint Session of Congress on Tuesday, February 4, 2020 in the Chamber of the U.S. House of Representatives."
A White House aide later told The Hill that Trump had accepted.
Funny how Pelosi, after saying Donald Trump violated his office and abuses his power, all nicely invites him to give the State of the Union.
If she really believed Trump was the villain she claims him to be, why would she be doing this?
Could it be that nothing she and her party has been saying about him all this time is true?
That even Democrats aren't buying the story that Trump abused his power or offered Ukraine a "quid-pro-quo"?
But here we are, just days before 2020 and Nancy thinks it's "business as usual." Not by a longshot.
Can you imagine what it will be like with Trump giving his speech, with a Speaker who just dared to impeach him?
Does Pelosi think he's just going to ignore it?
We don't know what he'll say, but we can be sure we'll see fireworks.
SHARE if you can't wait to hear Trump's next State of the Union address!
Source: The Hill