After Nancy Pelosi Tears Up Trump's Speech – Newt Gingrich Demands Congress To Censure Her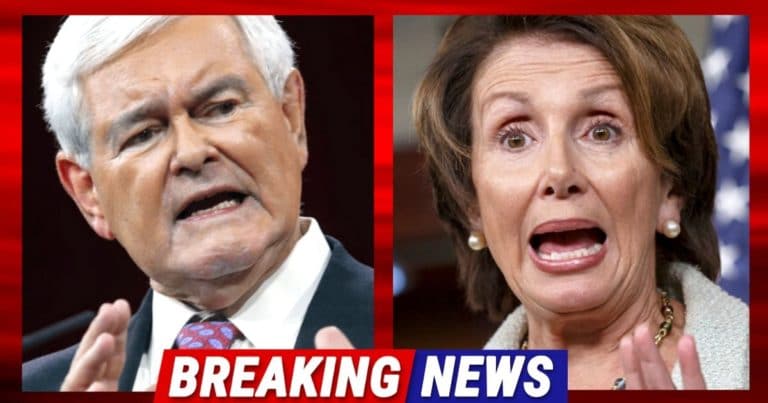 President Trump spent the SOTU address touting American excellence, celebrating everything that is great about America.
In response, Nancy Pelosi tore up his speech before the entire country. Such an action was hard to believe.
This went beyond a partisan disagreement. Many thought Pelosi openly showed disdain for what was celebrated in that speech: America's people, success and prosperity.
She called his speech a lie, a speech where Trump called for better education, opportunity, and health care for all.
Pelosi is already feeling the heat. Americans called in to CSPAN to let everyone know they will never be voting for Democrats again.
But Newt Gingrich, a man who was Speaker long before Pelosi, had another idea.
From Fox News:
Former Speaker of the House Newt Gingrich said he was "disgusted and insulted" after seeing House Speaker Nancy Pelosi tear up her copy of President Trump's State of the Union speech following his remarks Tuesday evening…

"She isn't clever or cute her childishness insults our American traditions – should be censured."
Newt Gingrich is calling on Congress to censure Pelosi for what she did.
A censure is a formal rebuke from Congress. They can send a message to Pelosi—and the rest of the country—that they condemn such actions.
Just think about what she did. President Trump had the right—the duty—to give his thoughts on the state of our country.
Democrats, as partisans, have the right to comment immediately afterward. They can rebut anything he says in their own speech. That's the time for Democrats to express any disagreements.
But Nancy upstaged the president by tearing up his speech. Do you think that's appropriate, or worthy of censure?
Gingrich is calling for the House to respond. He is requiring our elected officials to take a stand.
Do they support Pelosi's actions? Or are they willing to send a message that, no matter who you are, you must respect the office of the presidency?
SHARE if you want Nancy Pelosi censured—and voted out of office!
Source: Fox News