Pelosi Surrenders To Trump On The Wall – She Just Gave Donald A Major September Shutdown White Flag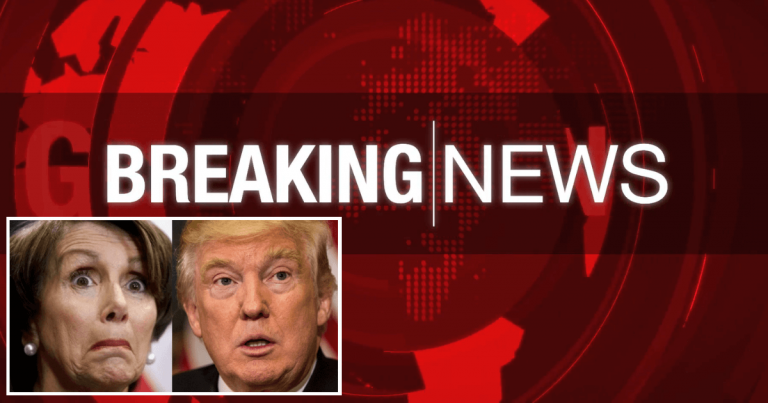 Nancy just gave in to Donald – it's so big, the media won't cover it!
Trump has been taking some hard stances on the border—and Pelosi just gave in.
Democrats can't deny the progress Trump's made on the wall. He's gotten billions more dollars to build hundreds of miles of barrier by next year.
Pelosi and her House Democrats have vowed that the wall will never happen—but they keep failing.
And Pelosi gave Trump one of her big fails yet—and another big win for Donald.
From Politico:
House Democrats have largely agreed to punt an ugly border wall fight with Donald Trump until November, likely averting a shutdown this month — as long as the president backs the plan.

The House is expected to pass a stopgap funding bill this week that maintains the status quo for Trump's border policies, marking a temporary concession by progressives still fuming at recent hard-line moves on immigration, according to multiple lawmakers and senior aides.
Boom! House Democrats have been forced to delay fights over the border wall in order to prevent a government shutdown this September.
You might remember the last shutdown in the beginning of the year. Ironically, the economy surged during that month-long shutdown.
Americans have little to fear from a shutdown. But you know who does? Pelosi and all the staff she employs.
The government needs the government to run. Otherwise, they have no reason to exist.
Pelosi's career is at stake if she forces another shutdown. The president doesn't mind. He can let the government shut down again and again.
So, to prevent more bad press for herself, Pelosi is punting her border fight until Thanksgiving.
By then, I doubt she or the rest of the Democrats will have any reason to prevent more border funding. We'll have more months to see how Trump's policies are working.
And the American people will demand more action along the border, not less.
If Pelosi was smart, she'd just fund the entire border wall right now. Then work on getting Mexico to pay us back.
SHARE to thank President Trump for building hundreds of miles of new wall!
Source: Politico