After Nancy Pelosi Tries To Stop Wall Funding – Trump Reveals He Has Already Secured Enough For 1,000 Miles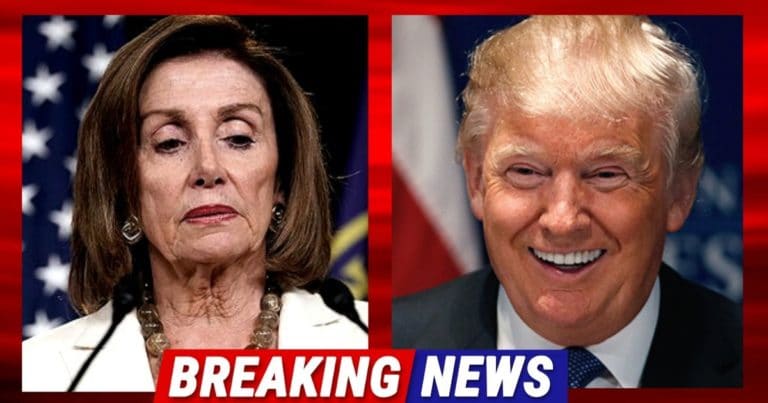 Once Nancy Pelosi took the House, she fought tooth and nail to stop Trump's progress at the border.
Congress refused to give Trump one red cent to build his promised border wall. He had to resort to the Pentagon to get funding—and got Mexico to do more than our own government.
Despite the left's obstruction, the president made plenty of progress. Over the last few years, many miles of border wall have gone up.
Now, his administration has made a huge announcement that will have Pelosi reeling.
From Daily Caller:
The Trump administration is shifting its border wall focus from procuring resources to breaking ground on new construction after securing funds for 1,000 miles of new wall along the southern border…

"The president has kept his promise to secure the border. With funding available, the administration will build up to approximately 1,000 miles of border wall along the southwest border."
Wow. Trump just announced they have the funds to build another 1,000 miles of the border wall.
Huh, when did this happen? Maybe during all those months the Democrats distracted themselves with impeachment?
They were so busying trying to defeat Trump through their scheme. Perhaps he was hard at work securing funds through the Pentagon to finish his border wall job?
That would make sense. CBP is shifting from acquiring funds to actually breaking ground on new construction.
The goal was 450 miles by the end of 2020. That is going to be easily met, according to the CBP.
But now they are looking at adding 550 more miles, bringing the total up to 1,000.
That's 1,000 miles of the border Trump is making safe and secure. Not just with his steel fencing system. The budget includes funds for enhanced technology, infrastructure, and personnel.
That means, we won't just get the wall, but tools (and people) to keep the border safe.
With the funds already available, it doesn't look like Democrats can stop Trump. Work is already underway—and over the next few years, you can expect it to ramp up.
We are looking at a safe United States, with a thriving economy and future. Americans are working hard and earning more.
And they can sleep soundly at night, knowing their president is moving heaven—and a lot of earth—to keep them secure.
It looks like the choice for President this year is going to be very easy, right?
SHARE to thank President Trump for building the border wall!
Source: Daily Caller