Mike Pence Releases Farmer Video On Bloomberg – Steamrolls Democrat Billionaire Mini-Mike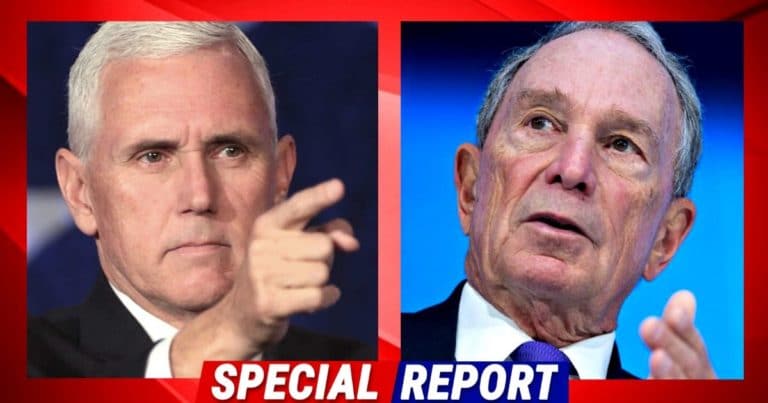 Wow, Mini Mike, when will they stop digging up dirt on you?
Establishment Democrats really hope Bloomberg can beat Bernie for the nomination. But countless videos keep coming out, exposing the billionaire's concerning views.
We all listened to his "throw 'em against the wall," comments. But if you thought Bloomberg's disdain was just for inner-city folks, think again.
A speech surfaced where Bloomberg implied farming was so easy, he could teach anyone could do it! (I guess he's never tried it himself.)
Well, Mike Pence replied with a brilliant video of his own.
From Daily Caller:
Vice President Mike Pence shared a video on Twitter Monday about farmers that appeared to take direct aim at 2020 Presidential candidate Mike Bloomberg, who belittled the profession in 2016…

"So God Made a Farmer," Pence wrote.
So God Made a Farmer 🇺🇸 pic.twitter.com/sbXSugMNyO

— Mike Pence (@Mike_Pence) February 17, 2020
Bloomberg said farming is a process anyone could learn. You just dig a hole, apparently! Not quite, Mike.
Pence blasted the former mayor with a speech from Paul Harvey who praised the hard work and devotion of America's farmers. It put Bloomberg's words to shame.
Who in their right minds would dismiss farmers? Do you know how hard it is to do their job?
Listen to that clip again. Farming is much more than putting a seed in the dirt and watching the corn come up.
But that seems to be what Bloomberg thinks of the men and women who feed America. They endure back-breaking work, with little thanks from the people in the big cities.
Perhaps Bloomberg could learn a thing or two from America's farmers.
Something tells me his comments won't go over well for the many Americans who live in the Midwest.
Donald Trump may be a billionaire, but he's a regular guy who considers his fellow Americans family.
He's been called the "blue-collar billionaire," because he shows so much respect for the hard-working people that make it all possible.
And that's not even mentioning the great deals he's scored for farmers since entering office.
That goes for Indiana native Mike Pence as well.
SHARE if you stand with Pence and our farmers, not Billionaire Bloomberg!
Source: Daily Caller