Mike Pence Changes His Tune On Flynn Case – Now The Vice-President Claims He Is "More Inclined" To Trust Flynn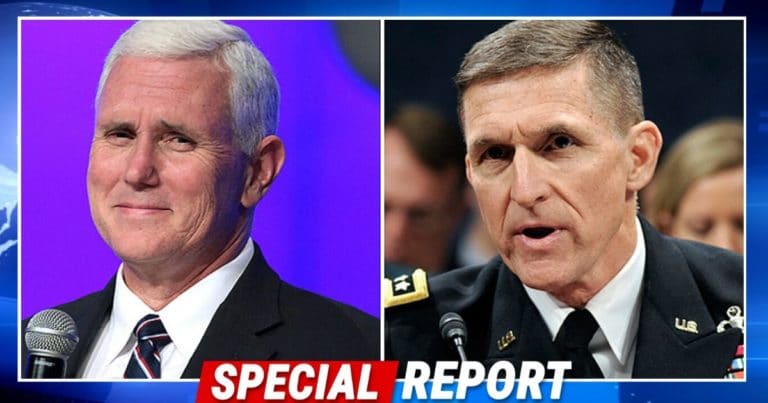 Vice President Pence was at the center of the Flynn case. Because Flynn was accused of lying to Pence, he was removed from his post at the White House.
New bombshell documents are showing the FBI may have been going after Flynn's job all along. Some suggest they set up the man, leading to his removal.
Now, Mike Pence is responding to the new evidence. And it appears he's changing his tune.
From The Hill:
Vice President Pence said Thursday he was "more inclined" to believe that former national security adviser Michael Flynn unintentionally misled him in early 2017 about his contacts with the Russian ambassador, an event that triggered Flynn's firing by the White House.
Wow. Mike Pence said, in light of what we're all learning, that he's more inclined to believe Michael Flynn did not intend to mislead him.
This has sparked speculation that Michael Flynn might be reinstated with a post in the administration.
All sorts of new reports have been coming out lately that appear to vindicate Flynn. Documents from the FBI seem to indicate that Comey and his men were trying to set up the national security adviser.
The real goal of their questioning him may not have been about learning the truth, but instead to get him to lie so he'd lose his job.
This was going on while many believe Comey ran an investigation against Trump. All to lay the groundwork, perhaps, to accuse him of colluding with Russia.
Flynn was slimed by the media over charges that he lied to the FBI. Now, it appears the FBI believed what he said—suggesting that he never lied at all.
It seems, with the smoke clearing, even the vice president is giving Flynn a second look.
Many Americans believe Flynn to be a patriot who was wrongfully accused. Perhaps now, he will get some justice?
SHARE if you think Michael Flynn is innocent.
Source: The Hill