Pence Lays Down Law On 2020 Dems – Leaves Them Dazed With Common Sense Hammer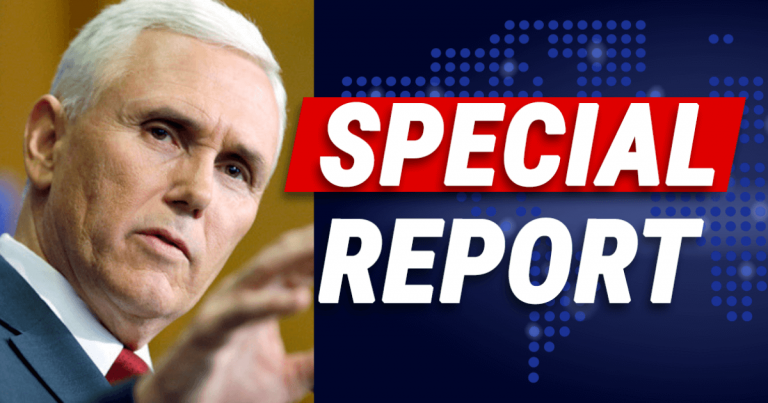 Democrats never saw Mike coming – our Lion VP is roaring now!
Vice President Pence has been a major support for Donald Trump. And he's not stopping now!
He's already shaking up the 2020 race with his latest statement. President Trump just confirmed that Pence is officially his running mate again.
And we think that's a fantastic idea.
Now, Pence is dropping a bombshell on the 2020 candidates' plans for America. If they plan to rollback all of Trump achievements, we're in big trouble.
From Twitter: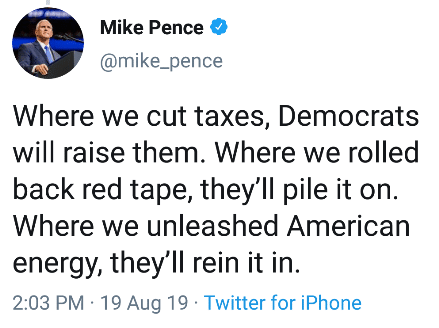 "Where we cut taxes, Democrats will raise them. Where we rolled back red tape, they'll pile it on. Where we unleashed American energy, they'll rein it in."
VP Pence laid down the law when he hammered the Left over their 2020 plans.
He continued in another tweet to make things even clearer:
If any one of the Democrat candidates who stood on stage won the presidency, the gains of the last 2 and a 1/2 years would be wiped out – with higher taxes & regulations. Jobs and the stock market would go down. And we would get that recession the naysayers are talking about.
So true – all of the major Democratic candidates running for president want to undo everything Trump has accomplished.
Pence calls out their plans to raise taxes, pile on the red tape of regulation, and rein in our energy independence.
If a Democrat makes it to the White House, they'll cripple our economy that is only recently roaring back to life.
Pence predicts all the gains of the Trump administration would be wiped out if a Democrat becomes president.
And it'll be much worse than when Obama was in charge.
These 2020 Democrats are pushing radical, far-left socialism. They want to create universal healthcare that could bankrupt our country.
They want to burden America with terrible environmental regulation. Their heavy taxes would destroy the jobs Trump's free-market policies created.
Pence even predicts the recession Democrats are hoping for would in fact happen—if one of them made it to the White House.
And here's the kicker: we think Pence is 100% correct.
Today, the Democrats clearly represent big, bloated, corrupt government. Do you think they want Americans to thrive? Or the Swamp?
Of all the 2020 candidates, nly Trump and Pence have a plan to keep us great.
SHARE if you're voting for Trump/Pence in a landslide!
Source: Twitter