After Pelosi Caught Tearing Up Trump Speech – Mike Pence Rips Into Her, Calls It A 'New Low'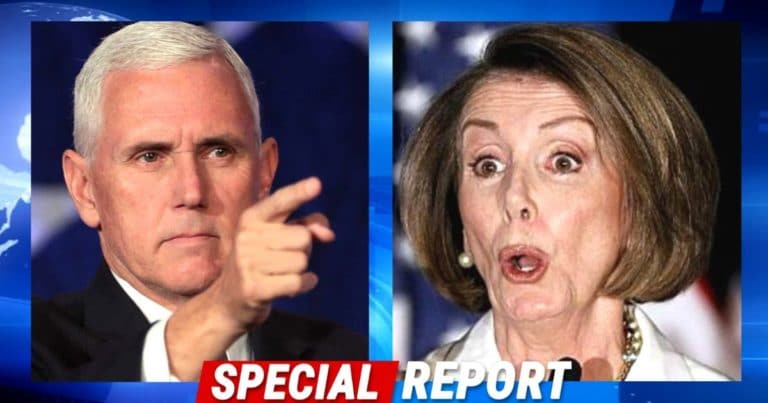 Did you catch Donald Trump's State of the Union address?
If you did, you might've witnessed a highly questionable act by House Speaker Nancy Pelosi:
Just after the President concluded his speech, Pelosi tore up his speech while the cameras were still rolling.
As a result, the backlash was immediate.
Republicans and right-wingers all across the nation are outraged by the surprising "speech ripping." And many are firing back against Pelosi.
One of those people is Vice President Mike Pence, who called Pelosi's action "a new low."
As he told Fox and Friends:
The contrast here was a president who spent an hour-and-a-half making the speech about America and Nancy Pelosi in the final moments tried to make it about her.

I think the American people see through it. They see through the pettiness, they see through the politics of all of it.
Darn right we see through it!
There's a reason #PettyPelosi is trending on Twitter. There's a reason why everyone from Nikki Haley to Trump himself denounced Nancy's shredding.
Even if Pelosi didn't like Trump's speech, to actually tear it up on live TV really seems like an immature reaction.
And as Pence added– "I wasn't sure if she was ripping up the speech or ripping up the Constitution."
The Vice President then made another bold statement, one Pelosi and the Democrats really won't like:
I just have a strong feeling that she's [Pelosi's] going to be the last Speaker of the House to sit in that chair for a long time.
One can hope!
Above all, I think Trump delivered a top-notch speech. He denounced dangerous left-wing policies like socialism, and reminded us of the strides his administration has taken.
And though I'm sure Democrats didn't like it, they should at least have a sense of decency.
Obviously, Pelosi doesn't agree with that idea. As Pence said, it was "beneath the dignity of a joint session of Congress."
I'd agree with that. Similarly, I'd also say the "ripping" was an insult to America itself.
Do you think Pelosi tearing up the President's speech was immature and insulting? SHARE if you do!
Source: Fox News