Mike Pence Stands Up To Republican Rebel – Declares That President Donald Trump Prevented Imminent Attack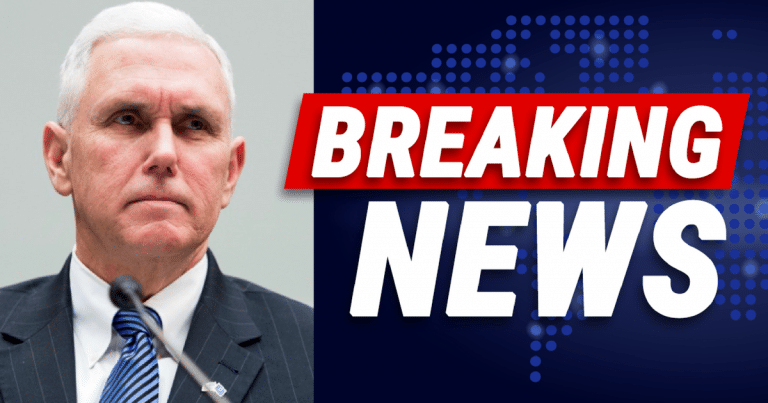 President Trump took decisive action when he took out Iran's top general.
Iran had been crossing the line, again and again, harassing us and our allies in the Middle East. And, according to reports, they were going to cross that red line again.
Most Americans celebrated the fact our president was willing to do what it takes to keep us safe.
Except for Democrats, of course. Liberals in the media and D.C. complained up a storm about the strike.
They didn't like the fact that President Trump did his job. And apparently, Republican Sen. Mike Lee is bent out of shape as well.
So, Vice President Pence had some strong words for him.
From Fox News:
Following criticism from Democrats and some Republican lawmakers over the intel briefings on the Trump administration's actions in Iran, Vice President Mike Pence on Thursday wanted Americans to be assured that the missile strike that killed Iranian Gen. Qassem Soleimani last week prevented "a threat of an imminent attack."

…Pence said that he was there "every step of the way" as President Trump came to the decision to strike Soleimani in Iraq.
Boom. Mic drop. Mike Pence called our Democrats and uptight Republicans who were complaining they weren't briefed adequately over the strike against Soleimani.
The vice president made it clear that there was a threat of an imminent attack.
We know that Soleimani was behind the riotous protest against our embassy in Iraq. The general was entering Iraq when we took him out.
Gee, I wonder what this general was doing in Iraq? Was he going to plant a peace garden?
Maybe he was planning on opening up a McDonald's franchise in the city?
Let's get real. This man was planning another attack. Lives—American lives—were at stake.
The president has every right to act in the interest of our country and national security. Just because these entitle senators didn't get a play-by-play doesn't mean a thing.
After all, D.C. swamp rats love leaking things to CNN. Why would Trump jeopardize a sensitive mission, just to make some bloated egos feel good?
We should be thanking Trump and Pence for moving quickly to prevent greater loss of life.
All those senators who are upset, are really just upset that Trump scored another win.
Proving they'd rather see Trump fail than succeed for America.
SHARE if you stand with Pence and Trump—not the Democrats!
Source: Fox News