After Protesters Break Lockdown Rules – President Trump Plans To Restart Major Campaign Rallies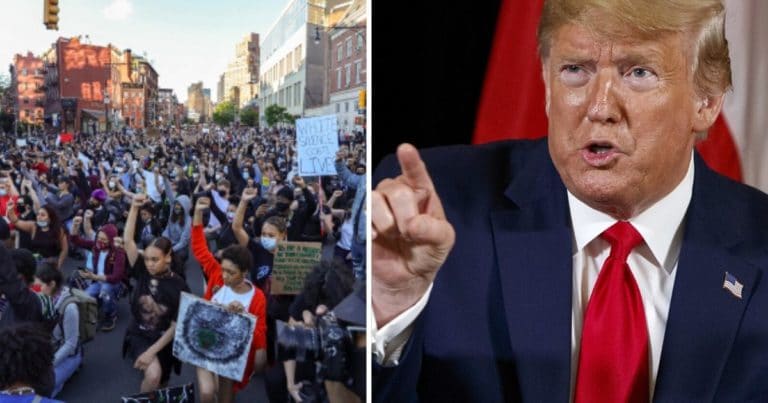 Even though states have reopened, many blues states demand strict "social distancing" guidelines. Meaning, they forbid large gatherings.
Unless, of course, you're Black Lives Matter crowding city streets to protest police brutality. Suddenly, at least according to Democrats, COVID-19 doesn't exist!
If leftists can protest for weeks without a word from the left, then so can conservatives. So, the president has announced a big step forward for 2020.
From Politico:
Donald Trump is planning to restart rallies in the next two weeks in a major turning point for the president since the coronavirus shut down traditional campaigning…

"Americans are ready to get back to action and so is President Trump. The great American comeback is real and the rallies will be tremendous," Parscale said in a statement.
Despite complaints already coming in from the liberal media, Trump announced he will resume rallies in a matter of weeks.
His campaign manager said Americans are "ready to get back to action." He predicted larger crowds than ever before, challenging "Sleepy Joe" to top them.
Our Take:
Even if the protests hadn't occurred, Americans would be eager for Trump to resume his rallies.
For nearly three months, we've been forced into our homes. More and more evidence has come out suggesting lockdowns were not needed to battle COVID-19.
Americans had to fight to get back to work, even as liberals screamed at us that we were "killing" people.
But these same Democrats did not utter a peep as thousands of people protested police brutality. Funny how COVID-19 was no longer a threat when the left had a political angle to push.
We know now that we need to protect the most vulnerable from COVID-19. Why can't the rest of us go to a Trump rally?
We can still "social distance" and wear masks if needed. We can still stay safe while showing support for our president.
Naturally, you can see why Democrats are against this. It has nothing to do with the virus. They were always horrified to see so many Americans (including independents and Democrats) party down at Trump rallies.
His rallies are the stuff of legend. Few Democrats can match the energy and enthusiasm.
In the past, Democrat governors and mayors tried to derail them with bogus security fees and other demands. Are we surprised that they'd use COVID to block us now?
SHARE if you're ready to go to a Trump rally.
Source: Politico