Rand Paul Gives Squad Omar Stinging Advice: 'You'd Appreciate America More If You Visit Somalia'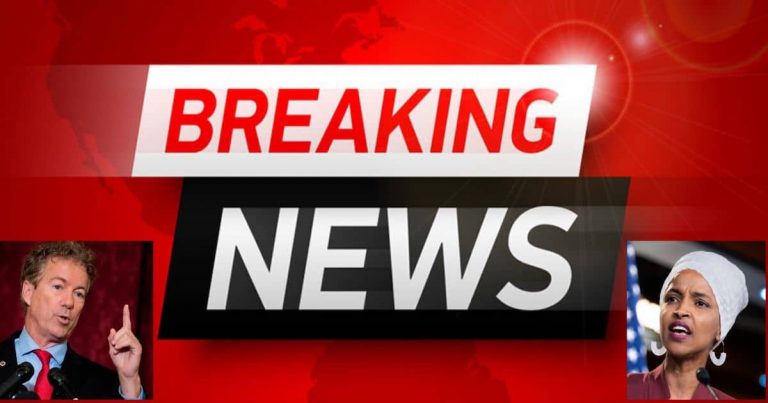 Omar didn't see Rand Paul coming!
Rep. Ilhan Omar has been taking a lot of flak for her questionable statements concerning the United States.
Many view these remarks as largely anti-American, and some citizens are really annoyed.
But Senator Rand Paul is more than annoyed: he's flat-out angry and indignant.
That's because he sees these anti-American comments by Omar as being hugely hypocritical and ungrateful.
After all, she has enjoyed immense success in this country, hasn't she? Hasn't she attained a very high position in life by being in the United States?
That's why Paul lit into Omar, and said she needed to get some perspective.
From Breitbart:
"Well, she came here and we fed her, we clothed her, she got welfare, she got [schooling], she got healthcare, and then, lo and behold, she has the honor of actually winning a seat in Congress, and she says we're a terrible country?

I think that's about as ungrateful as you can get."
Darn right it is!
Paul also mentioned knowing people who came here after living behind the Iron Curtain, and just how grateful they were to be in the Land of the Free.
But Omar doesn't appear even remotely grateful.
And as the Senator continued, maybe she needs to see what it's like to live in a truly awful country:
"And so — I'm willing to contribute to buy her a ticket to go visit Somalia, and I think she can look and maybe learn a little bit about the disaster that is Somalia…

…that has no capitalism, has no God-given rights guaranteed in a constitution, and has about seven different tribes that have been fighting each other for the last 40 years."
How's that strike you, Ilhan? You really do need some perspective on this issue, before you keep shredding America for being a terrible country.
Senator Paul finished by saying that if she visited Somalia, "she might come back and appreciate America more."
Far too many people, especially liberals, simply don't appreciate what they have here.
They spend their time slamming the country – and its President – never once realizing just how great they've got it.
And why? Because we enjoy freedoms many other countries don't.
And if we're so oppressive and racist, how did Omar get to be Congresswoman? How did Rashida Tlaib get to where she is? How did Barack Obama become President?
Maybe Omar should address these questions before she condemns the United States further…
SHARE if you agree Omar should go visit Somalia!
Source: Breitbart