Rand Paul Takes The Stakes Higher – Says Trump Children Should Sue Schumer For 'Defamation'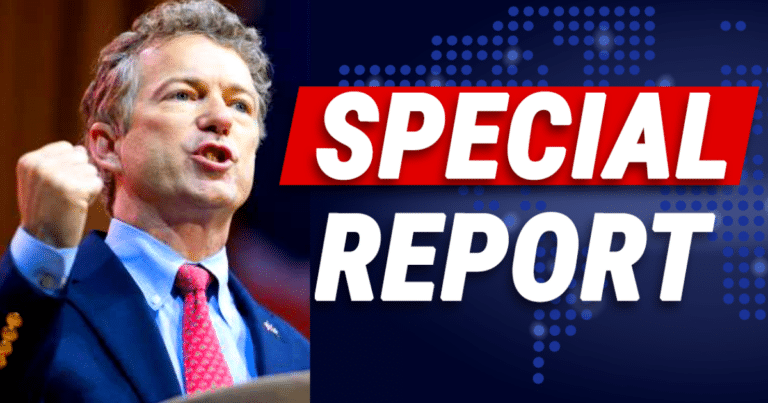 It's amazing how Democrats will try and throw things around to distract the public from the truth.
We all know the left impeached Donald Trump over what went on in Ukraine. Donald Trump asked their president to investigate what Joe Biden did while in office. Biden got Ukraine to fire a man who happened to be involved with investigations of his son's company.
Hunter job at Burisma (and his huge paycheck), have many conservatives questioning his ethics.
But recently, in an apparent attempt to distract, Democrat Sen. Chuck Schumer suggested something very infuriating.
From Breitbart:
Sen. Rand Paul (R-KY) reacted to Senate Minority Leader Chuck Schumer (D-NY) suggesting President Donald Trump's children are profiting illegally off of politics…
I think that's called projection, right? You accuse someone else of doing what you or your own people are doing. I think that is what's going on here.
Hunter and others are being exposed now for how they are profiting from family politics so Schumer tries to turn it around on the Trumps.
Luckily, Rand Paul was NOT having it.
"To have Schumer come up and say out of the blue maybe the president's kids are making money with no evidence at all, that's defamation, and they ought to sue him," he added."
Woah. Paul blasts Chuck Schumer's attack on Trump's children. He claims what Schumer did amounts to defamation. And the senator is encouraging Donald Trump Jr. and his siblings to sue.
It's hard not to think Schumer said this to deflect from Trump's—and America's—concerns that Hunter Biden got rich due to his father's job.
We do know that the then-vice president got a Ukrainian prosecutor fired by threatening to withhold aid. And we do know that Hunter Biden got paid a lot of money by a company who was being investigated by Ukraine.
Yet Schumer is suggesting that Trump's children are getting rich off of their father's job. Have we seen any evidence to back this up?
(They were all rich long before he became president, anyway.)
Paul might be hitting close to the mark when he accuses Schumer of defamation. We know Democrats have said all kinds of things in their efforts to sink the Trump administration.
Most of their claims are questionable, at best.
But should the Trump family sue? I guess that's entirely up to them. For years, we've seen the media and Democrats (same group) maliciously attack them, because of their dad.
Maybe they'll agree with Paul and say enough is enough.
SHARE to spread the word if you think the Trump kids should sue Schumer for defamation.
Source: Breitbart