Rapper Brags About Raking In $1.2M In Unemployment – Then Cops Swoop In, And He's Facing 22 Years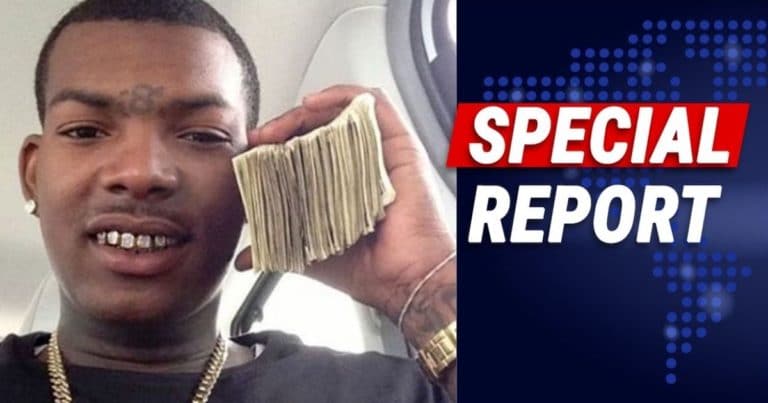 While assistance programs like unemployment are in place for a reason, they're often targets for scammers. The problem is, these scammers are essentially stealing away your money.
We've often seen stories concerning welfare fraud, for example, and that has cost the country an untold amount over the years. And taxpayers are the ones who pay the price.
However, that doesn't stop alleged criminals like rapper Nuke Bizzle.
The Tennessee rapper was just arrested and hit with multiple charges, including aggravated identity theft, access device fraud, and interstate transportation of stolen property.
The arrest comes shortly after the rapper (whose real name is Fontrell Antonio Baines) boasted in a YouTube music video that he got rich from committing unemployment benefits fraud.
All told, it seems he illegally snagged $1.2 million.
From Breitbart:
Baines was arrested for allegedly obtaining California Employment Development Department (EDD) debit cards issued in other people's names, including those who had their identities stolen.

Baines, who is originally from Memphis, Tennessee, got his hands on at least 92 EDD debit cards containing more than $1.2 million in benefits and had those cards mailed out to addresses in the Beverly Hills and Koreatown areas of greater Los Angeles, according to the Justice Department.
Federal officials said Baines "exploited the Pandemic Unemployment Assistance (PUA) provision of the CARES Act."
This was created to expand access to unemployment benefits to self-employed workers, independent contractors, etc. But evidently, it also presented thieves a loophole.
The rapper and others involved allegedly accessed over $700K of that $1.2 million in benefits by making cash withdrawals using the debit cards.
Baines rapped about his feat, saying he "got rich off of the EDD," which was probably a mistake. Federal officials weren't far behind in closing in.
On top of which, when he got arrested, police found he had seven debit cards under other people's names in his possession.
As the world faced a pandemic, local and federal governments raced to stimulate the hard-hit economy. They also wanted to make sure thousands of people wouldn't suddenly end up homeless.
That's why programs like the CARES Act came into play. But as is the case with most government assistance programs, there always seems to be a way to exploit the system.
But Baines may pay dearly for his crime — he faces a maximum penalty of up to 22 years in prison.
Key Takeaways:
Rapper Fontrell Antonio Baines (aka Nuke Bizzle) bragged in a music video that he "got rich off of the EDD."
He was then arrested for allegedly exploiting the PUA provision of the CARES Act. He apparently ended up stealing around $1.2 million in fraudulent unemployment benefits.
Baines now faces multiple charges, and could spend 22 years in jail.
Source: Breitbart