Rashida 'Squad' Tlaib Physically Removed From 2016 Trump Event – She Lost It Live On Video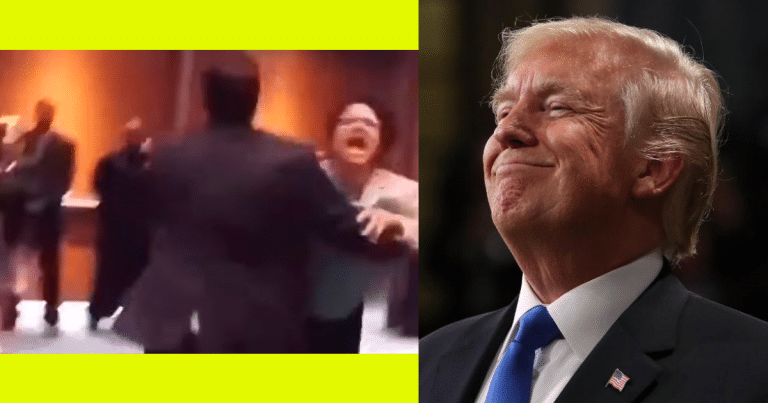 The liberal media has been giving President Trump trouble for his criticism of Rashida Tlaib and her "squad" in Congress.
But once again, we are discovering that Trump makes a good point.
He had accused these liberal congresswomen from being foul-mouthed and disrespectful, as well as hating America and our people.
Well, look what just surfaced:
A video of Ms. Tlaib from 2016; apparently, she was attending a speech by then-candidate Donald Trump.
Did she respectfully listen to the Republican and later form her own rebuttal? …uh, no.
In fact, she started such a racket, she had to be forcibly removed from the event!
From Washington Examiner:
"A video resurfaced Saturday of Democratic Michigan Rep. Rashida Tlaib being forcibly removed from an Aug. 8, 2016 Trump campaign event in Detroit while screaming, 'You guys are crazy!'

Footage showed two security officials holding Tlaib by her arms and guiding her toward the exit while she screamed at the crowd gathered for Trump's speech…"
Wow.
The video features the now-Democrat representative screaming and cursing at Trump and the attendees, and it took several security guards to escort her out. As she was leaving, they still had to restrain her.
The video shows how utterly crazy this woman can become, simply by listening to Donald Trump.
Really, let's be honest: Tlaib loses her composure completely. She exhibits behavior we see from enraged leftists who wear pink hats and march in mindless protests.
These people have totally lost touch with reality, perhaps due to what the mainstream media tells them every day.
And anyway, this is NOT the behavior of someone who will one day serve in the U.S. Congress!
Again and again, the left accuses Trump of not being "presidential." They claim his tweets and behavior are unprofessional—and un-American.
But have we ever seen Trump get thrown from an event, needing to be ushered out by security? Have we ever seen a conservative leader behave like this?
Of course not. Imagine what the liberal media would say if Ted Cruz was carried out like this!
Yet here we've got Tlaib, who the Democrats are basically treating like a hero, acting like an absolutely unhinged.
And we're supposed to just ignore that…?
Are Tlaib and the rest of her allies fit for Congress?
Source: Washington Examiner