Republican Leader Stops Biden in His Tracks – Lee Announces GOP Has the Votes Stop Clean Debt Ceiling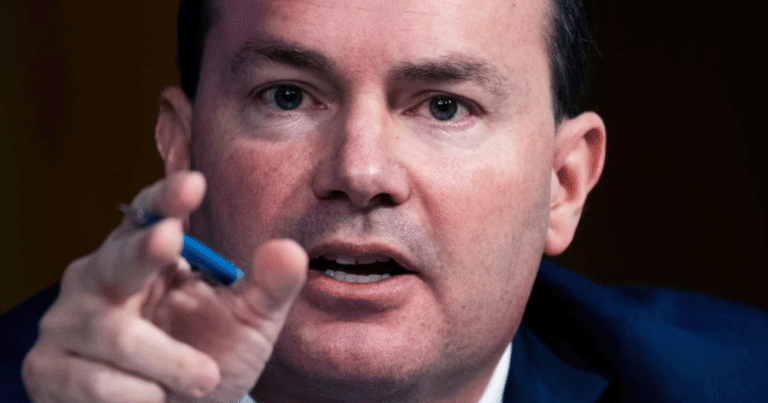 What's Happening:
Joe Biden is pushing America to the brink of disaster. For the second time in his administration, the country is facing the debt ceiling. If the ceiling isn't raised an economic catastrophe can happen in a matter of weeks. But crooked Joe refuses to work with Republicans on a bill that can save the country.
Democrats are hoping to ram through a last-minute bill that will raise the ceiling without any spending cuts. I guess they expect to spend as much of our money as they like, with zero consequences. But Sen. Mike Lee just gave Joe Biden the bad news.
From Daily Wire:
Senator Mike Lee (R-UT) said Sunday that he has more than enough votes to prevent Democrats from passing a "clean" debt ceiling increase…

Lee told host Maria Bartiromo that 45 Republicans, including himself, would vote against a bill that raises the debt ceiling without meaningful spending reforms.
According to Mike Lee, a Democrat-backed bill to raise the debt ceiling can be shut down by Senate Republicans. The "clean" bill must pass with at least 60 votes. And Lee is saying that Democrats won't be able to get that many votes.
Meaning their attempt at raising the ceiling without spending cuts is already DOA.
Sen. Lee is confident that no Republicans will break from the party to give Joe this gift. If Biden wants to raise the debt ceiling, all he has to do is negotiate with the GOP. Yet for some reason, a man once praised for his negotiating skills refuses to budge.
Is it because Biden is too frail to make a deal? Or is it because he's just doing whatever the radical left is telling him to do?
No matter who you ask, America defaulting cannot happen. It would bring about devastation for the U.S. and numerous countries all over the world. But Biden is unwilling to do anything that can benefit Americans, so hell-bent is he at getting his socialist agenda done.
I guess we'll have to keep our fingers crossed.
Key Takeaways:
Democrats in the Senate are trying to ram a debt ceiling bill through without cuts.
Mike Lee explained that Republicans will use the filibuster to block it.
Joe Biden wants the debt ceiling raised but refuses to negotiate with Republicans.
Source: Daily Wire