Nancy Pelosi Gets Blindsided by Top Republican – Senator Hawley Just Renamed New Insider Trading Bill the "PELOSI Act"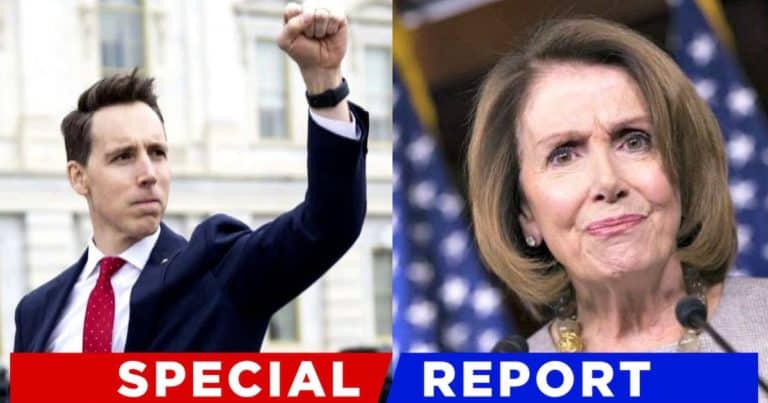 It's one of the most concerning topics for American citizens today: how is it that so many of our politicians wind up wealthy?
While many of them have plenty of money before they're elected, it seems like that wealth grows exponentially while in office. And it often happens very quickly.
Some point to all sorts of possibilities, such as money for speaking engagements and simply smart investing (money begets more money). However, that investing has recently come under heavy scrutiny.
And now, one Republican leader is taking a jab at former House Speaker Nancy Pelosi.
Pelosi and others have been on the hot seat for getting very rich, and for allegedly using their positions of influence to correctly invest in certain stocks.
For a long time, critics have maintained that lawmakers and their spouses shouldn't be able to hold and trade individual stocks. Lawmakers like Hawley supported a 2022 insider trading bill to stop it.
And that bill now has a new name — one Pelosi isn't going to like.
Via The Daily Wire:
U.S. Senator Josh Hawley (R-MO) reintroduced his 2022 insider trading bill Tuesday that would ban lawmakers and their spouses from holding and trading individual stocks and force political figures to return profits to American citizens under a new title dubbed the 'PELOSI Act.'
NEW: @HawleyMO announces the PELOSI Act 👀 pic.twitter.com/E9eXH5CXNd

— Abigail Marone 🇺🇸 (@abigailmarone) January 24, 2023
Hawley cleverly dubbed it the "Preventing Elected Leaders from Owning Securities and Investments" (PELOSI) Act.
The act reflects the concerns of many: for example, how people like Pelosi can continue to dramatically outperform the stock market, virtually every year they're in office.
The new version of this bill takes a shot at Pelosi and her husband Paul, who sold up to $5 million worth of Nvidia shares just before the House vetoed a bill involving the domestic chip manufacturing industry.
Said Hawley in a statement:
For too long, politicians in Washington have taken advantage of the economic system they write the rules for, turning profits for themselves at the expense of the American people.
The new law would not only ban Congress members from dabbling in the market, it would also stop politicians from holding diversified mutual funds, exchange-traded funds, or exempt U.S. Treasury bonds.
On top of that, spouses of elected officials in Congress would have to forfeit any investment profits back to the taxpayers via the U.S. Treasury.
A recent Business Insider report showed that 78 Republicans and Democrats had violated the STOCK (Stop Trading On Congressional Knowledge) Act, which was written to fight back against insider trading.
As Hawley said:
As members of Congress, both Senators and Representatives are tasked with providing oversight of the same companies they invest in, yet they continually buy and sell stocks, outperforming the market time and again.

While Wall Street and Big Tech work hand-in-hand with elected officials to enrich each other, hardworking Americans pay the price.
This Act comes at an opportune time, because the country remains teetering on the brink of a recession. Millions of citizens are in difficult financial positions around the nation.
These struggling Americans aren't pleased that their elected officials are getting incredibly rich, and perhaps via questionable actions.
Why should the politicians – who are presiding over a country that's facing numerous critical issues – be amazingly wealthy, while just about everyone else has to scrimp and save their pennies?
That's the question Sen. Hawley seeks to tackle with the PELOSI Act, because he believes he knows where all that money is coming from.
Key Takeaways:
Sen. Josh Hawley has renamed a new bill the "PELOSI Act."
It's designed to stop Congress members from getting rich off inside stock information.
Hawley said that "politicians have taken advantage of the economic system they write the rules for."
Source: The Daily Wire