CPAC Republican Poll Results Take a Major Shift – Both Trump and DeSantis See Movement in the Coming Primary Race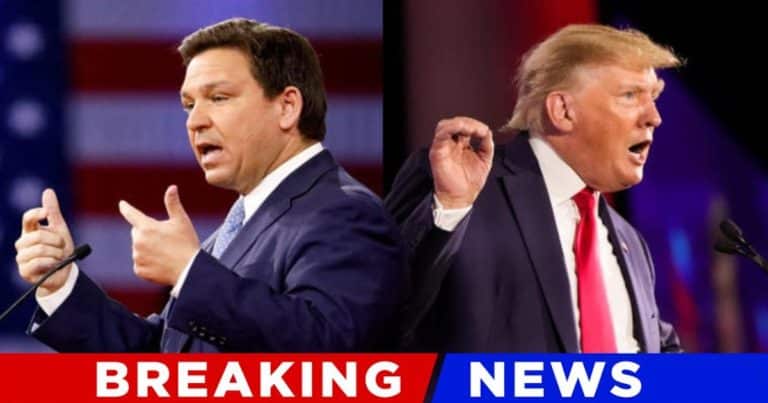 Though neither man has officially confirmed a run in 2024, it's clear who the top picks are for the Republican candidate: former President Donald Trump and Florida Governor Ron DeSantis.
Many are wondering if a Trump/DeSantis ticket is a winning combination to oust Joe Biden, though others maintain that it makes more sense to put the younger Florida leader in the driver's seat.
However, the latest CPAC poll results say otherwise — and the gap appears to be widening, not closing.
For most of the year, Trump has come out on top in GOP polling for the 2024 presidential race. In fact, he usually wins by a landslide when stacked up against other potential Republican opponents.
He's often beaten DeSantis soundly as well, but we saw a shift a few months ago that showed Trump was actually losing ground.
One Wisconsin poll even gave the victory to DeSantis over Trump, which is why many began to speculate that the former POTUS was losing his grip on the Party.
But if anything, that grip has only intensified, as evidenced by the 2024 GOP presidential poll from the Texas CPAC. Trump holds a big lead and this time, he has extended that lead, while DeSantis has dropped.
From Fox News:
Trump, who's repeatedly teased making another presidential run in 2024 to try and return to the White House, captured 69% of ballots cast in the anonymous online straw poll, according to results announced by CPAC on Saturday.

The support for the former president, who remains the most popular and influential politician in the Republican Party and continues to play a kingmaker's role in GOP primaries, is up from his 59% showing in the anonymous online straw poll at the CPAC gathering in Orlando, Florida in February.
This tells us that Trump jumped 10% in just 5 months.
That's a very significant shift, and it's even more significant because DeSantis dropped four percentage points, down to 24 percent from the 28 percent he earned at the Orlando CPAC back in February.
And once again, nobody was even close to these two. Senator Ted Cruz (TX) was able to garner 2% of the ballot, but nobody else managed to crack the top 1%.
So it seems clear that it'll come down to Trump and DeSantis for 2024 – assuming both toss their hats into the ring – and now, Trump's lead has grown. Said Trump spokesperson Taylor Budowich:
President Trump remains the most dominant force in American politics, and as yet another poll shows, it's a reality that will propel the growth and success of the Republican Party through the Midterms and beyond.
Interestingly, another poll saw Donald's name replaced with that of his son, Donald Trump Jr.
In that case, DeSantis won easily, nabbing 65% of the vote, while Trump Jr. only managed 8%. Cruz came in at 6% and Secretary of State Mike Pompeo earned 5%.
Obviously, few believe Trump's son is ready to lead the country but it's important to note that the Trump name holds immense influence. And Trump Jr. has plenty of time to gain the necessary experience if he's interested.
Lastly, the CPAC poll asked people who they'd like to see as Trump's running mate.
43 percent voted for DeSantis, while South Dakota Gov. Kristi Noem got 9%, and Pompeo came in at 7%. A Trump/DeSantis pairing might indeed be a winning combination, despite the former President's age.
And when stacked up against President Joe Biden and Vice President Kamala Harris, some polls show that Trump still wins.
At this point, it seems like only a matter of time before Trump officially announces his 2024 candidacy. Many contend it will come before the end of the year and just after the midterm elections in November.
Key Takeaways:
Former President Donald Trump extended his lead over Florida Governor Ron DeSantis in a GOP CPAC poll.
Compared to 5 months ago, Trump jumped 10% while DeSantis dropped 4%.
Most voters want DeSantis to be Trump's running mate, though. And if Trump doesn't run, DeSantis is the clear favorite (getting 65% of the vote).
Source: Fox News