After Top Republicans Defend Bud Light – DeSantis Stands Up and Sets the Record Straight on Woke Company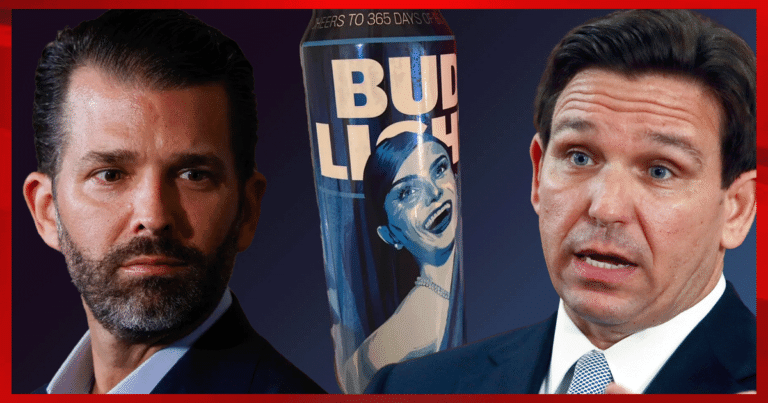 What's Happening:
I probably don't have to tell you that, after Bud Light embraced transgender personality Dylan Mulvaney, their sales tanked. The tried-and-true customer base was shocked by the company's sudden woke shift. And many beer drinkers decided to send a message by boycotting the company.
But, as we quickly found out, not every conservative was on board with this backlash. Some Republicans actually rebuked Americans for standing up to this woke, corrupt company. One of them was the former president's son.
From Newsweek:
Donald Trump Jr. has angered some conservatives for calling for an end to the boycott of Anheuser-Busch… A prominent GOP political committee has also received criticism after it deleted a tweet about Bud Light. A report published after the tweet was deleted said the committee has received donations from Anheuser-Busch.
Oh, I see! Suddenly certain Republicans are okay with companies pushing destructive, woke politics… if they are longtime donors to the GOP. So, I guess conservatives should just shut up and let big companies trample their values if Republican politicians are getting paid?
Conservative commentator Matt Walsh disagreed. And he blasted the Republican establishment for protecting its woke sugar daddy.
From Daily Wire:
This is what the GOP establishment and its donor class don't understand," he added. "We are sick and tired of this. We are sick and tired of watching as our culture is claimed piece by piece by madness and degeneracy."
The GOP establishment wants us to abandon the Bud Light boycott. Hell no. This is exactly why the GOP establishment is useless. pic.twitter.com/AKd7aH2ion

— Matt Walsh (@MattWalshBlog) April 17, 2023
So, how many Republicans are going to listen to their actual supporters and join this boycott? Very few names are popping up, ready to criticize Bud Light for their woke move. Except for one.
From Daily Wire:
Florida Governor Ron DeSantis slammed Bud Light on Monday evening, saying that conservatives should keep pressure up on the company as it faces backlash over its decision to partner with controversial transgender-identifying influencer Dylan Mulvaney.
The governor who declared war on the woke is joining millions of Americans to boycott Bud Light. He said supporting the company after it turned on its customers is like letting them "rub our faces in it." He warned that if we don't boycott these companies, they'll keep doing stuff like this.
When asked if he'd drink Bud Light again, the governor stated flatly, no.
Why aren't other Republican leaders doing the same? This isn't about a beer company. This is about major corporations abusing their customers to push woke politics onto America. These companies need to learn that we are not going to support them if they embrace values contradictory to our own.
But I guess far too many Republicans are silent because they like those checks from Budweiser. I wonder when Donald Trump is going to say something?
Key Takeaways:
Republican leaders, including Donald Trump Jr., have scolded conservatives for boycotting Bud Light.
Bud Light's parent company is a big donor to the GOP; some Republicans refuse to criticize them.
Ron DeSantis of Florida defended the boycott and has urged more Americans to do the same.
Source: Newsweek, Daily Wire, Daily Wire