Anti-Woke Athlete Makes Her 2024 Pick – And It Might Not Be Who You Expect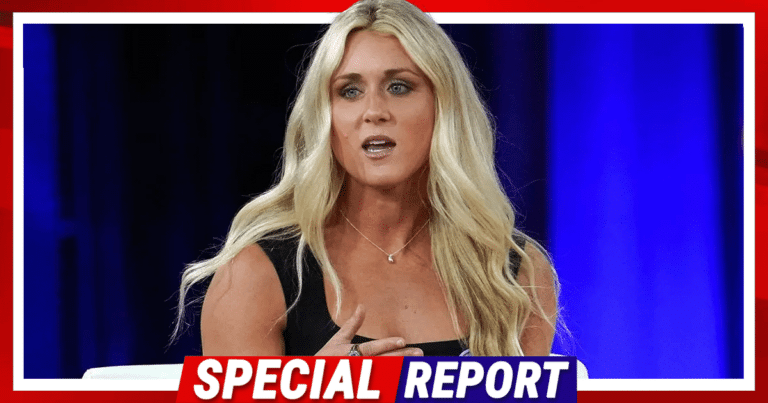 What's Happening:
You may recognize the name of Riley Gaines. She was the college swimmer robbed of her title by "transgender" competitor Lia Thomas. Since that time, Gaines has become an outspoken advocate for female athletes' rights, going head-to-head against the left's transgender lobby.
I guess you might assume Gaines is a conservative, given her criticism of the left's latest, holiest of grails. She has appeared at numerous events and interviews, championing women's sports for biological women only. And now, she is making waves by officially endorsing a 2024 candidate. But it might not be whom millions were expecting.
From Breitbart:
Swimmer Riley Gaines, an outspoken advocate against transgender athletes in women's sports, has officially endorsed Republican Florida Gov. Ron DeSantis for president…

"That's why this next election is so important for the sake of restoring and ultimately saving America and the people who live here," she said. "So that being said, I am so excited to announce that I am officially endorsing Governor DeSantis as president."
Riley Gaines officially endorsed Florida Gov. Ron DeSantis for president in 2024. Her reasoning is based largely on his history of defending women's rights and battling the woke agenda. Gaines said his leadership has been "crucial" in pushing back on the transgender ideology in Florida.
Under DeSantis, Florida has banned men from competing in women's sports, despite their "gender identity." The state has also outlawed transgender procedures on minors.
After Gaines was deprived of her victory, Gov. DeSantis made a point to acknowledge her as the real champion. It's no surprise that Gaines, who is strongly fighting for women's rights in sports, would back a Republican who has made efforts in that field.
It's unclear how strongly the other GOP candidates support protecting women's sports. But we know for a fact that the Joe Biden White House is highly in favor of transgenderism. The Biden administration condemned states that passed laws protecting women and children.
After a transgender shooter killed six in Nashville, the White House took the unprecedented step to defend transgenders and ignore the victims.
It's no big claim to say this issue will become a lightning rod in the upcoming election. As more Americans boycott companies that defend transgender rights, politicians will be unable to avoid taking a stand in the coming years.
Key Takeaways:
Women's sports advocate Riley Gaines endorsed Ron DeSantis for president.
Gaines lost her chance at the championship due to male swimmer Lia Thomas.
Gaines has defended women's sports in recent years, opposing the leftist agenda.
Source: Breitbart