Mitt Romney's Anti-Trump Account Slips Out – He Went After Donald With A Undercover Twitter Account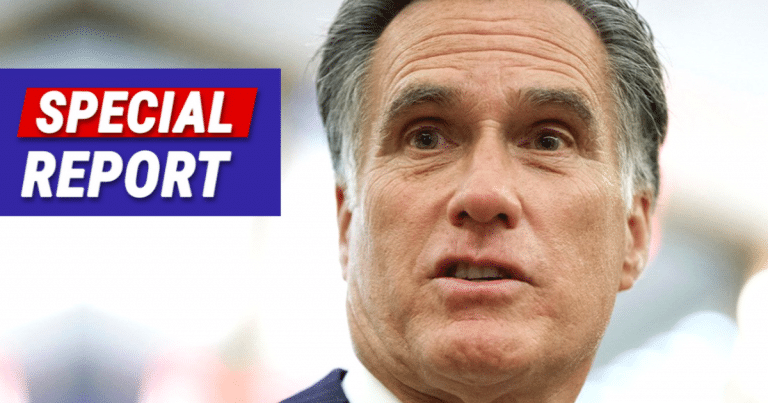 Romney thought this would never see the light of day – but it's out there now!
File this under "Utterly pathetic loser news."
Mitt Romney let down conservative Americans when he lost to Barack Obama in 2012.
Then, instead of honorably fading into retirement, he managed to squeak into the Senate last year, kissing up to Trump for a few moments.
But it seems ol' Mitt still hasn't gotten over his 2012 loss.
Why? Because he seems pretty bitter towards our sitting Republican president, Donald Trump.
You'd think a fellow conservative would be glad that Trump is scoring one win after another.
Not only does he frequently oppose the president (even embracing the thought of impeachment), but he goes to great lengths to protect his own image.
This is just plain sad… and weird.
From Breitbart:
Sen. Mitt Romney (R-UT) has been caught using the pseudonym "Pierre Delecto" to defend his own honor on Twitter…

It took a writer at Slate about fourteen seconds to discover that Mitt Romney, a sitting United States Senator, uses the name Pierre Delecto to run all around Twitter defending… Mitt Romney…

Now that he's become the laughingstock of the Internet, Willard has locked up "Pierre" as a private account.
Um… okay. Apparently Sen. Mitt Romey—a United States senator—created a fake Twitter account called "Pierre Delecto."
This wasn't so he could fanboy out over the latest Marvel movie in private. Nope, this was so he could defend himself to the world.
Wow. You know its sad when a man with that many children needs to be his own, secret cheerleader!
Compare this man to Donald Trump, who has no problem fighting his own battles online. If Trump has an opinion, he shares it publicly on his own Twitter account.
He doesn't need to create a fake one to hide from the backlash.
Yet Romney, who seems to want to win over the corrupt establishment, has just been humiliated for pretending to be someone else.
Maybe if you were bold enough to speak your mind and stick to conservative values, Mitt, you would have been president!
Instead, you're a hair's way from losing your Senate seat.
SHARE if you think Romney should be censured for turning on Trump!
Source: Breitbart