Romney's Former Employee Spills The Beans – Impeachment Vote Motivated By "Bitterness And Jealousy"
President Donald Trump's acquittal is in the books.
The impeachment trial is over and our Commander-in-Chief is innocent of all charges.
Just about every Republican voted to clear Trump, too. It showed great solidarity on the part of the GOP, which is always a good sign.
But one GOP member did vote to impeach — and his name is Mitt Romney.
Romney, long accused of being a "Never Trumper," wanted Trump removed from office. The Senator cited "abuse of power" for his reasoning.
However, one of Romney's former employees just spilled the beans: it wasn't about abuse of power.
No, according to Mitt's former traveling press secretary Rick Gorka, it was personal.
As he wrote on Twitter: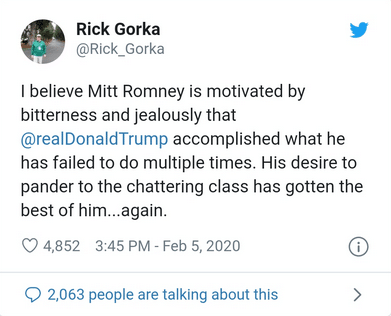 I believe Mitt Romney is motivated by bitterness and jealousy that @realDonaldTrump accomplished what he has failed to do multiple times.

His desire to pander to the chattering class has gotten the best of him … again.

These are the same people that hated Mitt in 2012 and they will hate him again when they are done with him.

It is sad to see that Mitt has not learned the lessons from 2012. Now he has betrayed his Party and millions of voters.
This sounds like a personal vendetta to me!
It's obvious that there's no love lost between Rick and Gorka. But let's not forget that Gorka worked for Romney, and probably knows him quite well.
As a result, I'm inclined to believe him.
And Gorka isn't the only person who doesn't appreciate Romney's vote to impeach. His own niece called him out!
Ronna Romney McDaniel is the chairwoman of the Republican National Committee and she said:
This is not the first time I have disagreed with Mitt, and I imagine it will not be the last.

The bottom line is President Trump did nothing wrong, and the Republican Party is more united than ever behind him.

I, along with the @GOP, stand with President Trump.
Well said!
It seems like just about every Republican disagrees with Romney. And I would guess millions of patriotic Americans do, too.
Though impeachment is over, it showed us who's on Trump's side … and who isn't.
Clearly, Romney is NOT on Trump's side. Similarly, many now believe he's not on the side of most Republican voters.
Maybe it's time for the GOP to abandon Romney. If he's not going to support our President, maybe he'd be better off signing on with the Democrats.
We don't need him anyway, right?
SHARE if you agree that Mitt Romney's vote to impeach Trump was personal!
Source: The Daily Wire