DeSantis Triggers 'Ron Revolution' in 19 States – Florida Example Challenges Big Majorities to Take Action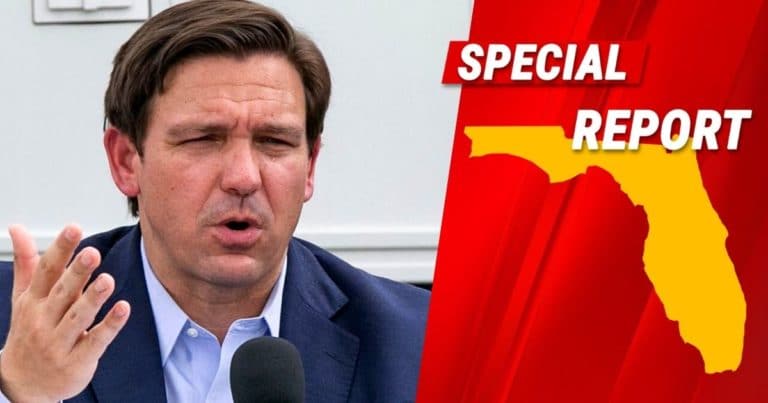 What's Happening:
It's anyone's guess what Gov. Ron DeSantis will do in 2024. But we do the Florida governor has already made a big impact on the United States. Even with a relatively narrow Republican majority, he has transformed the Sunshine State.
These days, the "swing" state is now a solidly red one.
But believe it or not, there are many states with larger Republican majorities than Florida. Yet their GOP leadership has refused to be as bold as DeSantis. So now, a "revolution" is taking place in majority conservative states. Democrats are not going to like this.
From Daily Wire:
States like Wyoming, the Dakotas, Idaho, Oklahoma, Arkansas, and Utah dwarfed Florida in terms of actual Republican control…

That's triggering what might be called a Ron Revolution, with lawmakers in other states seeking to follow the blueprint created by DeSantis. The Florida governor welcomes that, saying "I want them to eclipse me. We're setting a great standard in Florida, have everyone up their game."
Whoa. There are twenty-two states with Republican governors and Republican-controlled legislatures. Some of those states have larger GOP majorities than Florida. Yet in recent years, these states have not been aggressive in implementing conservative plans–compared to Democrats in blue states.
That's all changing. A "Ron Revolution" is inspiring red states to take bold moves to secure conservative victories in their states. Hey, whenever Democrats get a slim majority in a state, they run with it.
California used to be red. Democrats slowly chipped away at that majority, until they got a slim upper hand years ago. But they used that majority to push some of the most far-left policies we've ever seen. Today, California is a socialist wasteland and Democrats enjoy a supermajority.
Why aren't red states learning from that? If Democrats can do that in CA–they can do that anywhere. Now is the time for Republicans to muster their resources and pursue strong, conservative policies that shut down Biden and his leftist goons.
DeSantis gained a Republican majority, flipping Florida, because he unapologetically advanced conservative goals. States with larger Republican majorities can do the same, perhaps even more. Even DeSantis said he wanted those states to "eclipse" him. Why shouldn't they?
But this reveals the tremendous influence DeSantis is already having, just as governor. Is it any wonder why people want him to take the White House? I guess we'll have to wait and see.
Key Takeaways:
Republican-controlled states are following Gov. DeSantis's lead to aggressively pursue conservative goals.
This "Ron Revolution" is inspiring states with larger GOP majorities to make bold moves.
This comes as Ron DeSantis flipped Florida from a swing state to a solidly red state.
Source: Daily Wire