Hours After Biden Team Brags About Helping Seniors – It Turns Out Joe's Inflation Law Is Slashing Medicare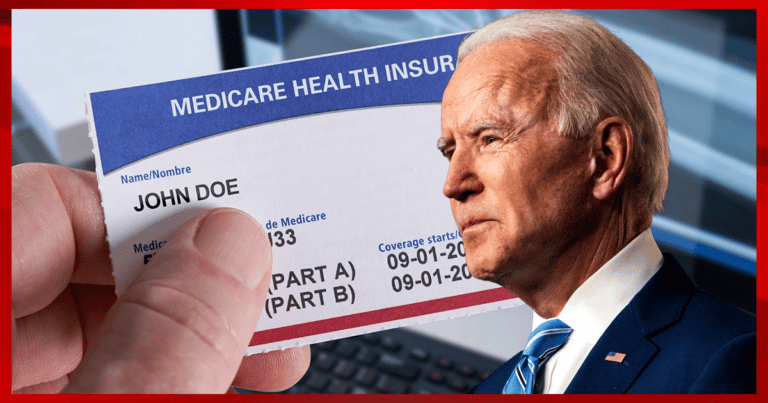 What's Happening:
This week, families all across America will be enjoying a special time of thanksgiving and cheer. The national holiday is a chance for us to spend time with loved ones, put aside our differences, and remember what truly matters.
But for Biden's White House Chief of State, it's a chance to push inaccurate talking points to prop up this failed presidency. Ron Klain actually posted a list of Biden's "accomplishments" that petty Democrats can use to attack their conservative families.
One last item for your Thanksgiving dinner: some talking points when "that Uncle" comes "at you" about @POTUS. pic.twitter.com/P9X0wDRRZK

— Ronald Klain (@WHCOS) November 23, 2022
We don't have space to explain how all of these "accomplishments" are false (especially the blatantly dishonest claim that Biden "lowered" gas prices–or how his infrastructure bill has less than 1% allocated for actual infrastructure).
But the second "achievement" on the list claims Biden lowered prescription drug prices for Medicare recipients. For one thing, even Bernie Sanders admitted Biden's legislation did not help either Medicare beneficiaries or Americans who are not on Medicare.
But Klain's claim is even more dishonest. Because reports are coming in that Biden is about to cut prescription drug funding for Medicare–with his latest "Inflation" bill.
From Breitbart:
Two economists reported Tuesday in a Wall Street Journal op-ed that President Joe Biden is cutting Medicare benefits through the so-called Inflation Reduction Act, which cuts payments for prescription drugs for seniors…

President Biden has accused Republicans of scheming to cut Medicare. In fact, it is his signature legislation, the Inflation Reduction Act, that will lead to benefit cuts and premium increases for seniors. Medicare's popular drug-coverage program is headed for a painful amputation.
Wow. Klain is 0-7 with his bogus tweet. In fact, one of the biggest lies is that Biden lowered drug prices for seniors. In reality, his "Inflation Reduction Act" will make huge cuts to the drug-coverage program within Medicare.
By 2025, Biden's signature bill will cut government subsidies for drug payments. In fact, $30 billion will be lost thanks to Joe Biden. This means drug prices will skyrocket for seniors on Medicare.
Now, why would a law that is supposed to "fix" inflation (which Biden once claimed didn't exist) end up hurting Medicare recipients? Because this law was never about inflation, but about taking money away from existing programs (like Social Security and Medicare) and funneling it into Biden's pet projects, like environmental funding.
Klain is blatantly lying to Americans, claiming Biden is lowering drug costs. Meanwhile, Biden is deliberately taking money away from Medicare, putting millions of senior citizens in jeopardy.
Key Takeaways:
White House Chief of Staff claimed Biden cut drug prices for Medicare recipients.
In reality, Biden's "Inflation" bill will slash the Medicare drug program by 2025.
The result will be rising prescription drug costs for senior citizens.