Rosenstein Shuts Down Democrat Senator – Tells Hirono Trump Did Not Commit Any Crime Warranting Prosecution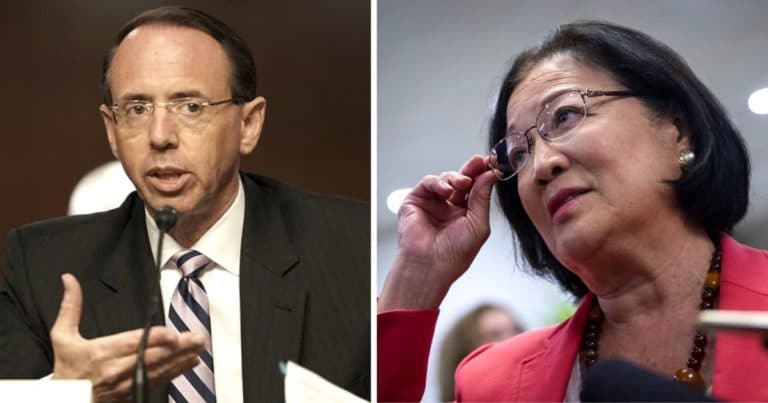 Former Deputy Attorney General Rosenstein took the stand before the Senate Judiciary Committee. And boy, did he make some headline news.
He admitted to not reading the full FISA warrant he himself signed. Republican Senators blasted him for it.
But when Democrat Hirono tried to pin President Trump, Rosenstein set her straight.
From Just the News:
"I did not suggest or hint at secretly recording President Trump," Rosenstein also said during questioning from Democratic Sen. Mazie Hirono…

"Senator I do not believe that the evidence collected by the special counsel warrants prosecution of the president, that is correct," Rosenstein replied.
Sen. Hirono tried to the Senate's investigation into Crossfire Hurricane as an attempt to throw more dirt on President Trump.
But Rosenstein shut down two of her claims. First, he said he never recommended recording Trump or using the 25th Amendment to remove him—a story the media spread far and wide.
Then, he dumped cold water on Hirono's attack, saying the "evidence collected by" Mueller did not warrant prosecution of the president.
Our Take:
When are Democrats going to stop banging the Russian drum? The Mueller report came out last year. Yet Hirono is still trying to fish for dirt from it.
These Senate hearings are about finding out what Obama's administration did while investigating Trump. Hirono immediately dismisses that to go after the president.
Because, you know, Obama was such a perfect and flawless leader!
Conservatives question what Rosenstein's role was in Crossfire Hurricane. Especially after he admitted to not knowing the full scope of the warrant against Carter Page.
But when given a chance to throw Trump under the bus (essentially) he shut Hirono down with the facts.
A long-held story by the media was that Rosenstein wanted to secretly record Trump and use that to remove him with the 25th Amendment.
That's not how the amendment works, of course, but the media pushed this story anyway. Rosenstein himself has always denied it.
Rosenstein also confirmed what we all discovered last year, that Mueller's probe did not uncover evidence he believed should lead to a prosecution of the president.
So, why is Hirono still fishing? Bitter much?
SHARE to tell everyone how Rosenstein cleared Trump (and humiliated Democrats).
Source: Just the News