'Little Marco' Makes Trump Prediction – Rubio Claims If Trump Runs In 2024, He's Got The Nomination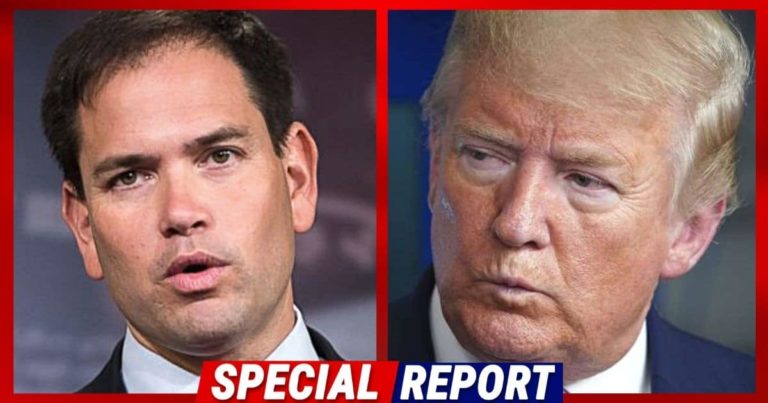 What's Happening:
Donald Trump and Republican Sen. Marco Rubio haven't always been the best of friends. Even towards the end of his first term, Trump received criticism from the Florida politician.
Trump, in turn, once mocked Rubio's short stature and mannerisms during his State of the Union rebuttal.
But it seems that Rubio has been closely observing Trump all these years. And the senator has been impressed by the 45th president's mountain of achievement.
So, he's making a bold prediction for 2024.
From The Epoch Times:
If former President Donald Trump decides to run for president in 2024, no Republican can defeat him, said Sen. Marco Rubio (R-Fla.) in an interview Wednesday…

Rubio described Trump as "the most popular and most influential Republican in America"…

"If he decides to run for the president and the nomination, he's going to be the party's nominee," Rubio told Newsmax. "That's the way I see it."
During a recent interview, Rubio made it clear what would happen if Trump ran for president in 2024.
Even with other Republican rivals possibly running in the primaries, Rubio believes Trump would win easily.
He even called Trump the "most popular" and "influential Republican" in the country. High praise, indeed.
It seems like the love is being shared all around. Trump recently gave a powerful endorsement for Rubio, who is up for re-election soon.
Trump said Rubio is a "tireless advocate" for Florida (Trump's current home state). And he said Rubio would "never" let them down.
We all know Trump has been prioritizing the 2022 midterm elections. Earlier in the year, he vowed to help Republicans win back Congress. Since then, he has become very vocal in his endorsements for many pro-American candidates.
(And he's blasted those fair-weathered Republicans he does not like.)
Rubio is a popular senator in his state. But no chances can be taken. Democrats are determined to expand their power in D.C. Every race counts and every endorsement matters.
With Trump backing Rubio and Rubio backing Trump, it puts both of them in a good place for 2022 and 2024.
Key Takeaways:
Marco Rubio stated Trump would win the 2024 primary if he ran for president.
The senator stated Trump is the most popular Republican in the country.
Trump, in turn, endorsed Rubio for his re-election to the Senate.
Source: The Epoch Times