Bernie Sanders Makes His 2024 Decision – After He Declares His Plans, He Reveals His POTUS Pick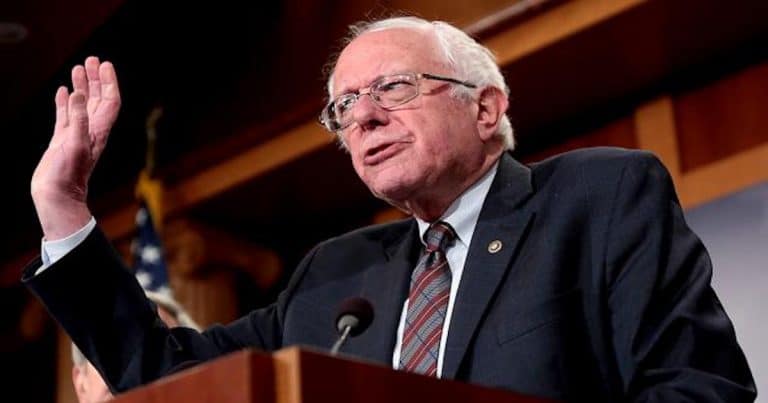 The 2024 field hasn't been fully fleshed out yet, but several big names have confirmed: former President Donald Trump announced a while back, and current POTUS Joe Biden confirmed his re-election campaign this week.
However, popular potential GOP candidate Ron DeSantis hasn't made the move, and neither have a few other anticipated candidates.
But one is definitely out — and he has also revealed who he's backing for 2024.
It's Sen. Bernie Sanders, who ran for President multiple times in the past but never really got close. The Independent self-labeled socialist wasn't popular enough among Democrats.
Some believed that because socialism is becoming frighteningly popular among leftists, that Sanders might give the White House another shot.
That won't happen in 2024, though, as the aging politician won't be throwing his hat into the ring this time.
Via The Daily Wire:
Sen. Bernie Sanders (I-VT) says he will not run another campaign for president in the 2024 cycle and will instead support President Joe Biden's re-election effort.

'I'm in to do what I can to make sure that the president is re-elected,' Sanders told the Associated Press on Tuesday.
It shouldn't be any surprise to see Sanders back Biden, though he has sometimes gone against the Democrat grain.
There was basically no chance he would back any Republican candidate and with no confirmed socialists on the docket, it seems Sanders has no choice but to support Biden in his re-election bid.
Sanders failed to gain the Democrat nomination twice and came somewhat close against Hillary Clinton. But he bowed out relatively early when up against Biden in 2020.
In a statement, the Senator said:
Running for president was a wonderful privilege. I enjoyed it very much and I hope we had some impact on the nature of American politics.

But right now, my job is to do what I can as chairman of the (Health, Education, Labor and Pensions) committee, to see Biden get reelected and to see what I can do to help transform policy in America to help protect the needs of workers.
For the time being, Biden doesn't appear to have much in the way of stiff competition.
So far, only leftist and author Marianne Williamson and Robert F. Kennedy Jr. have been the notable Democrat nominees. Some say RFK Jr. has a shot, especially due to Biden's struggling popularity even among his own party.
But even so, most experts say Biden is certainly the current front-runner for the nomination.
Sanders also believes Biden will be the nominee, and says it's his job to "make certain that he stands up and fights for the working class of this country and does not take anything for granted."
The Senator is 81 and Biden is 80, which would mean Joe would be 86 by the end of his second term.
Age is a definite factor for Americans according to several polls and a recent Associated Press-NORC Center for Public Affairs Research survey showed that only about 1/4 of Americans (26%) want Biden to run again.
And less than half (47%) of Democrats want Biden to be the nominee. However, over 80% said they'd probably vote for him if he got the nod.
Lastly, Sanders warned against a Republican candidate in the White House, saying the U.S. doesn't want a "right-wing demagogue who is going to try to undermine American democracy."
But no matter what he says, he won't be a candidate — and that's probably for the best.
Key Takeaways:
Sen. Bernie Sanders confirmed he won't run for President again in 2024.
He also announced his support for President Joe Biden's re-election campaign, saying he wants to "help protect the needs of workers."
Sanders pledged to fight against anybody like Donald Trump or a "right-wing demagogue" that wants to hurt democracy.
Source: The Daily Wire