After Sanders Raises $25M in 3 Months – Trump Quietly Reminds Bernie He's The Fundraising Boss
Bernie thought he had a major win – then Donald came along and deflated his balloon!
Wow, haven't heard much from Bernie in a while, huh? Joe Biden and Elizabeth Warren have been taking the spotlight.
Almost as if the liberal elite have decided they are the real frontrunners, not voters.
Well, Bernie's still around. And apparently, he still has left-wing followers, willing to open their checkbooks to help him realize his communist—I mean socialist—dream.
From Fox News:
Democratic presidential candidate Bernie Sanders hauled in a whopping $25.3 million during the July-September third quarter of fundraising, his presidential campaign announced on Tuesday morning.
Aw, that's cute. Funny how much some Americans are willing to dish out to get a Democratic Socialist elected.
I guess they assume he'll give it all back through government programs. Good luck with that!
Truth is, $25 million does go a long way. But it pales in comparison to what Donald Trump has been hauling in over the summer.
In fact, ever since Nancy Pelosi decided to doom her party with an impeachment push, Trump's been raking in the cash.
From Twitter: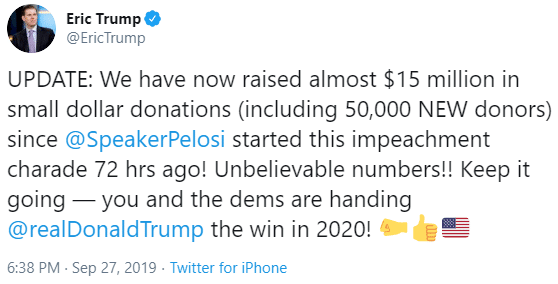 UPDATE: We have now raised almost $15 million in small dollar donations (including 50,000 NEW donors) since @SpeakerPelosi started this impeachment charade 72 hrs ago! Unbelievable numbers!! Keep it going — you and the dems are handing @realDonaldTrump the win in 2020!
In just three days, Donald Trump's campaign brought in $15 million—in small-dollar donations.
Those are donations less than $200. Trump was able to raise that much money, with small donations.
That means lots of Americans are fired up over this impeachment push. They are outraged that Pelosi and House Democrats would try to impeach Trump over nothing.
During the second quart, Trump was able to raise more than $100 million in donations. Imagine what his haul will look like, once the third-quarter numbers are in.
Trump has been outraising his Democratic rivals by a longshot. Sure, Biden might be resting easy, knowing that $25 million will keep him alive for a little bit longer.
But the American people—in large numbers—aren't with him. They don't want to see the United States dragged into a socialist nightmare.
We don't want Bernie taxing us into oblivion, so he can pay for his terrible, bloated, government programs.
So keep bragging Bernie. We'll see you in November 2020—if you're still around.
SHARE if you think Trump is going to win 2020 in a landslide!