Bernie Supporters Should Be Getting Nervous – It Looks Like Hillary Could Be Rigging The 2020 DNC Convention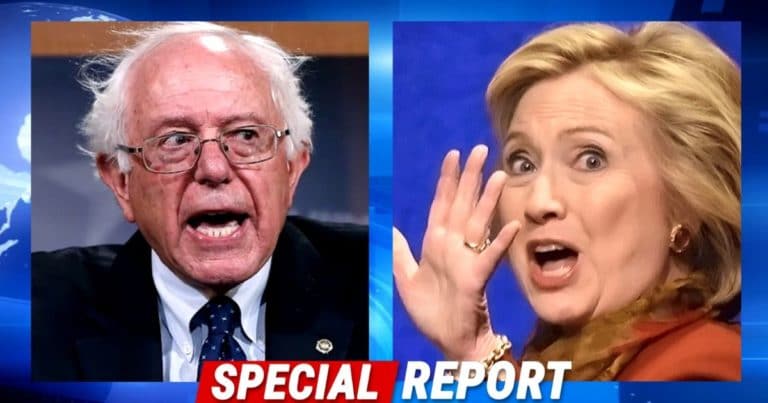 Against all odds (and the wishes of the Democrat establishment) Bernie Sanders is surging in the primaries.
He has healthy leads in Iowa and New Hampshire, crucial states for the Democrat nomination.
Meanwhile, the once frontrunner Joe Biden is fading. I guess liberal voters aren't too happy with what's coming out of the Biden family, these days.
But with Bernie getting close to clinching the nomination, it looks like his people are getting pretty nervous.
We all remember what happened in 2016. Sanders seemed to have the nomination. But out of nowhere, the establishment crushed his campaign to give Clinton a leg up.
Maybe their worries are justified?
From Fox News:
Their frustration comes after Perez named former Rep. Barney Frank of Massachusetts – who was a surrogate for Hillary Clinton's 2016 presidential campaign — as co-chair of the convention's Rules Committee. And Perez picked John Podesta – who served as Clinton's 2016 campaign manager – to have a seat on the committee.
Lol, wow. You remember John Podesta, right? I know some of you know that name very well.
Well, guess what? He's back! The chairman of the DNC just gave one of Hillary's biggest allies a seat on the convention's Rules Committee.
Some of you might not remember the name, Barney Frank. He was a big hitter in the House for years—and a Hillary Clinton surrogate.
Looks like Perez is stacking the deck with Clinton allies right as the primaries heat up. These men are no friends of Bernie Sanders.
Could their influence put a stop to Sanders' forward momentum?
In 2016, the party pretended to be working with Sanders. But leaked emails revealed that the former chairwoman was actually serving Clinton's interests.
Is that happening again, but for Biden or another candidate?
Rumors have swirled that even Obama is worried about a Sanders nomination. The establishment doesn't seem to think that a radical, left-wing socialist has a chance against Donald Trump.
Hey, they are probably right. But does that justify possibly rigging a democratic primary process?
I don't think so. But, I'm not a Democrat. It's possible that their desperation to defeat Trump is forcing them to sabotage one of their own.
Pretty sad, if you think about it.
SHARE if you think the Democrats are panicking about losing to Trump in November!
Source: Fox News