Bernie Sanders Hits Trump Below The Belt – Shares Doctored Video Of Donald Getting Rushed On Stage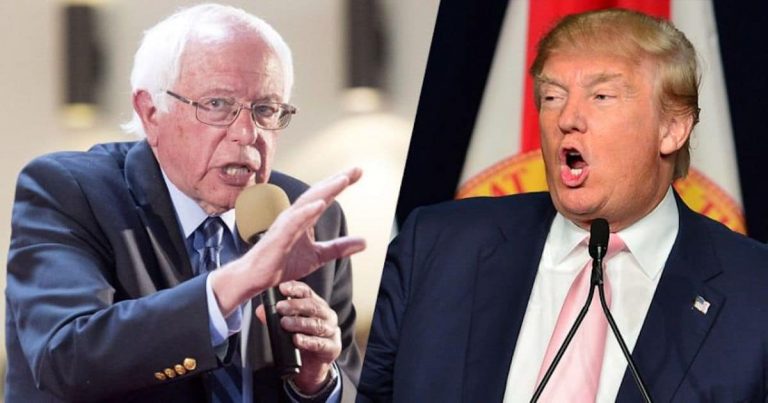 Independent presidential candidate Bernie Sanders must be getting desperate.
As his stock continues to fall in the 2020 race, he keeps trying one questionable campaign ploy after another.
Now, he's apparently trying to convince voters that he scares President Donald Trump.
…that's right, he thinks Trump is actually frightened of Sanders running in the 2020 race.
Or rather, Sanders is banking on the strength of his campaign to strike fear into Trump's heart.
He drove this point home by sharing a poorly doctored video on his Instagram page (via The Daily Caller):
"Want to really scare Trump?

Help us show the strength of our campaign to defeat him—chip in before our fundraising deadline at midnight at the link in bio."
The video is showing Trump at a 2016 rally in Dayton, Ohio, where a man leaped over the police barricade and charged the future President.
It must've been a legitimately frightening moment for Trump.
However, Sanders wants to make light of that, and at the same time see if he can steal a few votes … and a few bucks.
Sanders' tactless post comes after Facebook refused to take down a doctored video of House Speaker Nancy Pelosi, which made her appear drunk.
Of course, nobody tried to use that video get campaign donations.
Sanders must really be desperate for those donations if he's willing to put this up … it also shows his willingness to insult the President in the most childish manner possible.
But it's unlikely this little video stunt will help the confirmed socialist.
At this point, Sanders is slipping badly behind other presidential candidates, so hopefully he'll be all washed up by next year. Am I right?
What do you think of Uncle Bernie sharing this "scared Trump" video to get campaign donations?
Source: The Daily Caller