Hours After Adam Schiff Launches 2024 Run – The Congressman Gets Knocked Over by Campaign Accusation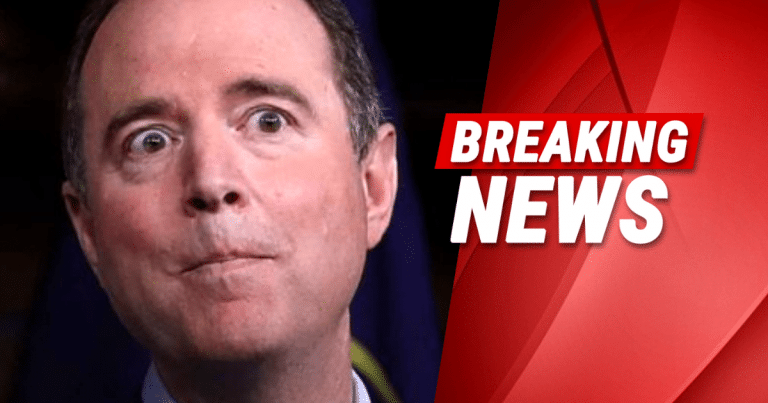 What's Happening:
Adam Schiff has had a pretty rough past couple of weeks, although many voters think it is well deserved.
The Congressman from California, who was such a fixture of the House Intelligence Committee and prime accuser of Donald Trump, was unceremoniously dumped from "his" committee for, as Speaker McCarthy put it, lying to the American public about evidence.
Schiff denied this and joined the chorus of accusing the Speaker of playing politics, but he tried to quickly shift the narrative—to his new run for the Senate in 2024, planning to take over Dianne Feinstein's seat.
But Schiff's big news immediately got swamped with some concerning news of his own on Capitol Hill. From the Washington Examiner:
Rep. Adam Schiff (D-CA) is facing an early obstacle to his 2024 Senate bid after a nonprofit ethics organization filed a complaint to the Office of Congressional Ethics accusing the California Democrat of using government resources to boost himself politically.

"In the present case, Rep. Schiff is clearly using official government video for campaign purposes in violation of federal law and the House ethics rules," the group wrote in a letter to the Ethics Office on Friday. "The Office of Congressional Ethics is responsible for ensuring each Representative fulfills the public trust inherent in the office and that they comply with the House's ethical standards. Therefore, we urge the Board to immediately investigate whether Representative Schiff used official resources for campaign purposes in violation of the House ethics rules."
Of course, Adam Schiff would think nothing of using the government for his own personal benefit—that has clearly been the story of his political career.
He has been accused of using his leadership role and access to highly classified information to boost himself as he was plastered on TV screens by the likes of CNN and MSNBC. Thankfully, that wasn't seen by many.
Now the Congressman is cutting campaign advertisements using his role as lead prosecutor in the impeachment of Donald Trump. Apparently, Schiff may have broken federal laws and ethics rules by doing so.
But as we've continued to see, Democrats play by a different set of rules and are rarely held accountable. Don't expect to see Schiff penalized for this, but at least he should be reprimanded in the court of public opinion for using his position for his personal benefit.
Key Takeaways:
Adam Schiff announced a run for Senate and cut a campaign ad using footage from Trump's impeachment.
He has been hit with an ethics complaint for using government videos for campaign purposes.
Source: Washington Examiner