Adam Schiff Loses It After Flynn Cleared – Says Barr Incriminated, Calls America An "Emerging Democracy"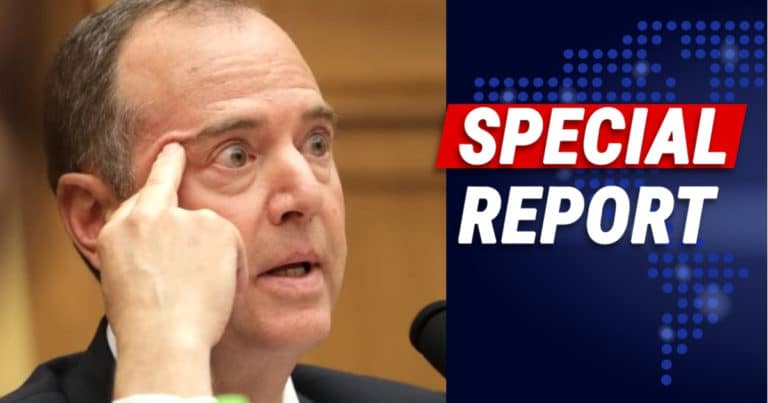 Adam Schiff was hit with a stunning setback this week and now he seems to be lashing out.
New evidence reveals he may have known a lot about Trump and Flynn's innocence. Yet he kept pushing for these men to be removed from power and convicted.
Now, he's throwing out some harsh accusations. Not only at Attorney General Barr, but all of America.
From Breitbart:
"Flynn pled guilty to lying to the FBI about his illicit Russian contacts. His lies do not now become truths," Schiff wrote on Twitter. "This dismissal does not exonerate him. But it does incriminate Bill Barr."
Schiff, apparently bitter that his scheme was spoiled, claims Barr was "incriminated" for dropping the case against Flynn.
Okay, buddy. The attorney general has the authority to drop a case if he feels there is good cause. The DOJ concluded that the FBI had "no material reason" to charge Flynn. It seems almost petty to keep pushing it, after that.
But what Schiff said about America, in light of this news, is even more shocking.
From Breitbart:
Adam Schiff (D-CA) reacted to the dropping of charges against former National Security Adviser Michael Flynn by stating the move "really puts us back in the category of almost an emerging democracy, where the rule of law is not yet firmly established, where prosecutorial decisions are made on the basis of politics."
Wow. Schiff is attacking America, saying we are an "emerging democracy" where the rule of law is not "established."
Really, Schiff? That's the best you can say? The United States is being led by a president that puts law and order first.
Schiff actually had the gall to say Flynn was set free over "politics." Lol, if that isn't the biggest case of the pot calling the kettle black.
This Democrat stood before the Senate and claimed Trump would steal the 2020 Election. Did he say this because of overwhelming evidence or because Trump's a Republican?
Do you think Schiff is truly upset over the state of the DOJ or is he just throwing a temper tantrum?
He did say he had "direct evidence" that Trump colluded with Russia. But those newly released transcripts suggest otherwise.
The numbskulls on MSNBC might buy Schiff's story. But something tells me most of America won't.
SHARE if you want Schiff brought to justice.