Schumer Cornered By Manchin's Leaked Evidence – Chuck Promised Joe The Reconciliation Bill Wouldn't Cost More Than $1.5T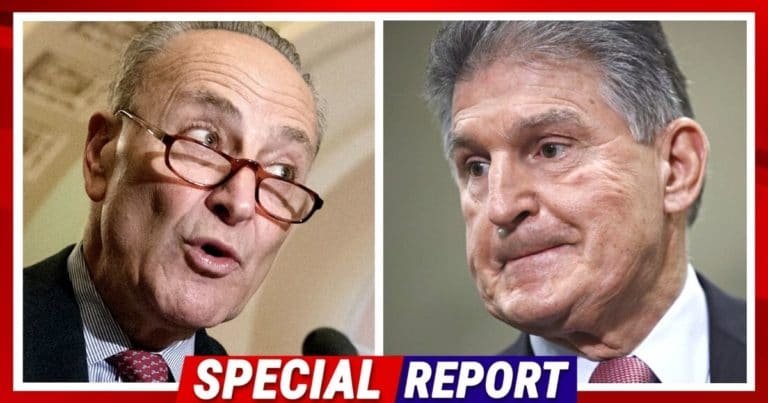 The Biden administration's $3.5 trillion reconciliation package is the most hotly debated item on Capitol Hill right now. Democrats are trying to ram it through, while Republicans seek to stop it.
The GOP has been saying from the start that it's far too expensive. And worse, it actually punishes the middle-class rather than helping it, as many Democrat leaders claim.
But now, it seems one key Democrat went back on his promise.
For most of 2021, a couple leftist politicians have stood in the way of the reconciliation bill: Sens. Kyrsten Sinema (AZ) and Joe Manchin (W.V.).
Manchin especially has been vocal about the proposal, often saying it's monumentally expensive and will only cause more debt problems. In his view, $3.5T is simply outrageous.
However, new evidence has come to light — and it might explain why Manchin is so upset about the price.
According to a recently leaked document, Sen. Chuck Schumer (D-NY) promised Manchin the reconciliation package wouldn't cost $3.5T. In fact, he originally quoted a much lower figure.
It's actually a number that many Democrat leaders think is far too low now, which is ironic considering that Schumer is their leader.
Via Breitbart:
Sen. Chuck Schumer (D-NY) on a signed piece of paper in July promised Sen. Joe Manchin (D-WV) the reconciliation package would only cost $1.5 trillion, not the $3.5 trillion President Biden proposed and the number House Democrats are demanding.
The document was signed by both Schumer and Manchin, and it says the "topline" number for that package would be $1.5T. That's $2 trillion less than where the bill stands now.
According to the paper, Manchin said he won't promise that he'll vote for the final package if it goes higher than $1.5T.
And that's exactly what's happening today.
On top of that, the document also shows that Schumer and Manchin agreed to stop the Federal Reserve's "quantitative easing," which just means they'll stop funneling money into the economy.
this document reads to me like a sign of lack of trust on the Hill, a far cry from a time when a handshake was enough pic.twitter.com/K5G2HZLvSq

— Tara Palmeri (@tarapalmeri) September 30, 2021
The paper really dropped like a hammer on liberal members of the House.
This basically proves that the extra $2T they seek won't have the support it needs for the package to pass. And they really won't like this, because that money would've gone toward more radical programs.
As for Schumer, a spokesperson told Politico that he didn't agree to any of Manchin's conditions. He just "acknowledged" where Manchin stood on the subject:
Sen. Manchin did not rule out voting for a reconciliation bill that exceeded the ideas he outlined, and Leader Schumer made clear that he would work to convince Sen. Manchin to support a final reconciliation bill — as he has doing been for weeks.
On the other hand, Manchin says he hasn't budged.
He issued a statement this week saying he refuses to "support trillions in spending or an all-or-nothing approach that ignores the brutal fiscal reality our nation faces."
He added that there must be a "better way," and they can find it provided negotiations continue.
But clearly, Schumer and Manchin once entertained the $1.5T number. Maybe Schumer saw it as a starting point, but that's not really how it was worded in the document.
And right now, many Americans are not on board with spending $3.5T, especially when the majority of that money appears to be going toward various liberal "Holy Grails."
Key Takeaways:
A signed document shows Sens. Chuck Schumer and Joe Manchin apparently agreed on a $1.5T price tag for the reconciliation bill.
Manchin said he wouldn't support anything more expensive, and he's stuck to that in recent months.
Schumer claims he and Manchin didn't agree to anything, only that Schumer "acknowledged" Manchin's position.
Source: Breitbart