Chuck Schumer Caught in Hot Mic Confession to Biden – Senate Leader Reveals Dems Are "Going Downhill" in Georgia Race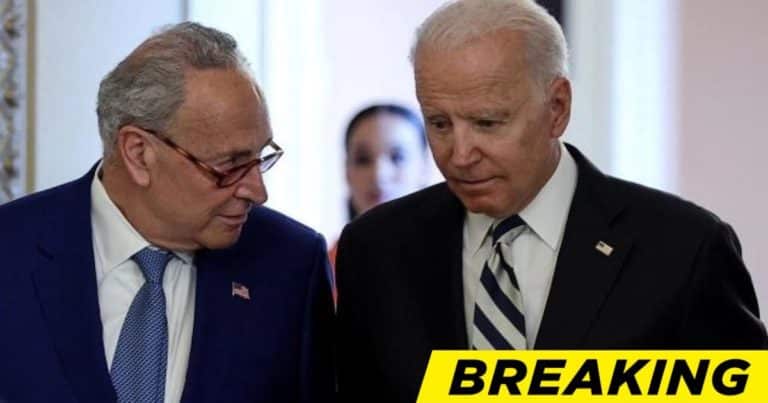 With just days before midterm voting results start rolling in, Republicans are hoping for a "red wave" to reclaim some control in Washington.
Recent surveys have shown the GOP has strong momentum heading into the elections, with Republicans predicted to take the House majority. Some experts say they have a good shot of taking the Senate, too.
Previously, House Speaker Nancy Pelosi said that despite the polling, she believed Democrats were still in good shape.
Her colleague doesn't agree, though — and he just told the President that Dems were in trouble.
Senate Majority Leader Chuck Schumer (D-NY) was caught on hot mic discussing the midterm elections with Biden, and he was referring to a particular swing state.
This state has been in the news a lot lately, primarily because it features one of the hottest races in the country: Democrat Raphael Warnock vs. GOP challenger and former NFL star Herschel Walker.
Georgia is also the home to controversial leftist Stacey Abrams. And for a while, it looked like the state would stay mostly blue.
But now Schumer isn't so sure:
WATCH: Hot mic catches @SenSchumer telling @POTUS Biden that Georgia is 'going downhill' for Democrats

READ: https://t.co/DQd2bDpj7C pic.twitter.com/bHVpdeducn

— Washington Examiner (@dcexaminer) October 27, 2022
Schumer can be heard saying "we're going downhill in Georgia," and added that "it's hard to believe that they will go for Herschel Walker."
However, recent polling suggests that Walker is currently in the lead. It was also reported that the Republican has poured plenty of money into his campaign, and it might be paying off now.
Schumer was also heard saying, "we're in danger in that seat," but we can't be certain which seat he's referring to.
He further told the President that the highly publicized debate between Democrat John Fetterman and the GOP's Dr. Mehmet Oz didn't go badly. He said "the debate didn't hurt us too much."
Some critics might disagree with that assessment, though, and some continue to question Fetterman's mental fitness.
Throughout the country, it appears as if previous Democrat strongholds are weakening: races are tightening up in Oregon and New York, for example.
And as we get closer to voting time, it's becoming clear that most voters are worried about the economy and rising crime, two categories in which Democrats don't usually fare well in the polls.
As for Georgia, the Warnock/Walker race might come down to the wire, so Schumer is right to say they're "slipping." Warnock once held a sizable lead.
Key Takeaways:
Senate Majority Leader Chuck Schumer told President Biden they were "going downhill" in Georgia.
He was referring to the Warnock/Walker race, where the Democrat once held a big lead. That lead is now gone according to many polls.
Races in traditionally blue states are getting very close all across the nation.
Source: Washington Examiner