Schumer Tries To Slip Lev Parnas Into Impeachment Trial – But He Got Tripped Up By His Pesky Ankle Monitor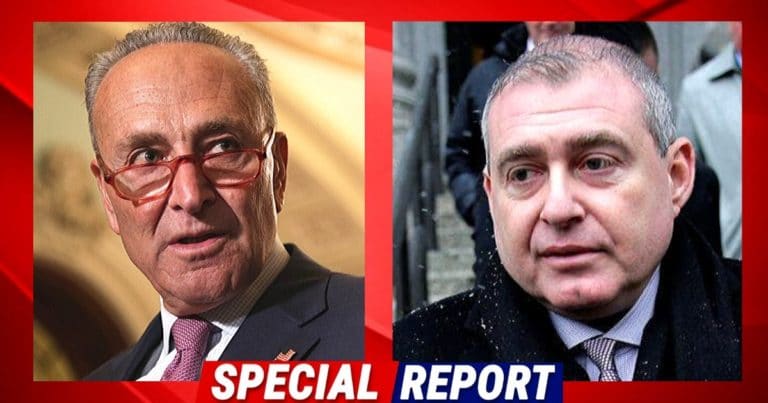 Here is some troubling news. Senate Minority Leader Chuck Schumer apparently gave tickets to Lev Parnas to attend the Senate impeachment trial.
You might remember Lev Parnas' name. He was a former associate of Rudy Giuliani's. Today, he has been indicted on various charges.
Parnas tried to get some attention by claiming he discussed with Trump pressuring the Ukrainian government.
President Trump denies it—and we've yet to see evidence to back Parnas' claims.
Seems like Schumer wanted Parnas there as some kind of publicity stunt. But they both forgot one embarrassing fact.
From Daily Wire:
Senate Minority Leader Chuck Schumer on Wednesday gave American businessman Lev Parnas, an associate of Rudy Giuliani, tickets to attend the Senate impeachment trial, however, he was not allowed in due to the electronic ankle monitor on his ankle.
Oops! Parnas wanted to attend the Senate trial, but rules state you can't enter the gallery with any electronic devices.
Not a problem for most people. They can leave their phones in their cars.
But… Parnas is wearing an electronic ankle monitor—because he's on house arrest!
A judge allowed him to go to Washington. But Parnas can not remove the monitor. And, because of the strict rules of the Senate, he is not allowed inside.
Ah, the best-laid plans, eh Schumer?
We're not sure why Chuck agreed to give this man tickets to the trial. Did he want him to make a spectacle?
Did Schumer think the media would try to question Parnas? Or draw attention from the real issues?
We don't know. But maybe Schumer was pulling a political stunt aimed at President Trump?
Too bad Parnas is facing charges and is wearing an ankle monitor, huh?
Next time, Schumer, maybe invite people who aren't on house arrest?
SHARE to tell everyone how Parnas got turned away at the door!
Source: Daily Caller